What is First To Go?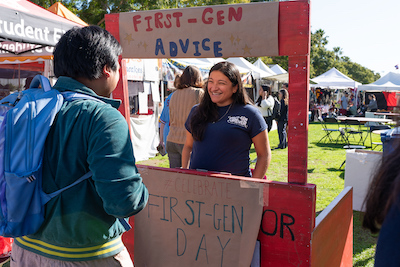 Mission:
The First To Go Program at Loyola Marymount University offers first-generation college students valuable resources and opportunities for their academic, professional, and personal growth. It is our mission to reinforce and build upon the unique sources of cultural capital first-generation college students bring to the university in order to create a community that promotes and progresses our students' successes during their tenure at LMU.
We aim to accomplish our program's objectives via five pillars: Transition, Community Building, Academic Engagement, Preparation for Post-Graduate Success, and Advocacy for Institutional Transformation.
Need to Connect?
Given LMU's decision to move to online instruction for the remainder of the semester, First To Go will offer ONLINE meetings only. Please e-mail Alexia "Lexie" Pineda Soto, First To Go Program Coordinator, at alexia.pineda@lmu.edu to schedule an appointment.
Contact Us
Daum Hall, 2nd Floor (Room 212)
Email Us: firsttogo@lmu.edu
Phone: 310-338-7677