ONIF Alumna Spotlight
April 27, 2020
Name: Carmina Portea
Major: MA in Urban Education
Graduation Year: 2018
Fellowship Award: I received the 2019-20 Fulbright English Teaching Assistant Grant, so I assisted in teaching English, Science, and American culture to students ages 3-7 years old in a public elementary school in Vecindario in the island of Gran Canaria. I also conducted 2 side projects: a mini-comparative study of the experience of Filipino immigrants in Gran Canaria and Filipino Americans, and volunteered with a local nonprofit that supports foster youth.
What are your current or future career plans? I am passionate about education and social emotional learning in the classroom. I want to continue teaching in the classroom, and ultimately move up to administrative roles in the school and district and pursue an EdD, in order to implement more culturally-responsive, social emotional based learning and practices across subjects and grade levels.
What have you enjoyed most about the program? I love how unique my experience was living in one of the Canary Islands. The Canary Islands is off the coast of northwestern Africa, and closer to Africa than it is to Iberian Peninsula (Spain). Because the islands were port stops for the trade between Spain and Latin America, many Latinos immigrated to the Canary Islands. It created an interesting melting pot of Latino and Spanish culture. We have the second biggest Carnaval in the world, just after the one in Brazil. We also use words like guagua to name the public buses. It also was wonderful having beautiful weather all year round and access the beach and the mountains.
What was the most challenging aspect of the program? The most challenging aspect was definitely getting used to the Canarian Spanish accent, and language acquisition. Spanish is not my first language, so it was a big push for me to integrate into Canarian culture by practicing with anyone I can, and making lots of mistakes. I lived with Spanish roommates, who were from different parts of Spain, which meant all of us had different accents. It was super fun to learn different slang from all parts of Spain.
What advice do you have for future applicants? Write, write, and rewrite. Ask your professors, friends, and family to read your essays and edit. It was helpful for people from different walks of my life to read my essays because it helped me hone in on different skills I have learned and adapted throughout the years, which made my papers showcase me as a whole person. Fulbright wants diverse candidates with different experiences. No experience should be glossed over. They all make up some significance in your journey that can make you a great candidate for Fulbright.
What would people be surprised to know about you? I can confidently say I'm trilingual now! Tagalog, Spanish, and English. It's a work in progress, but I think my time in Spain with Fulbright really helped me improve my Spanish skills.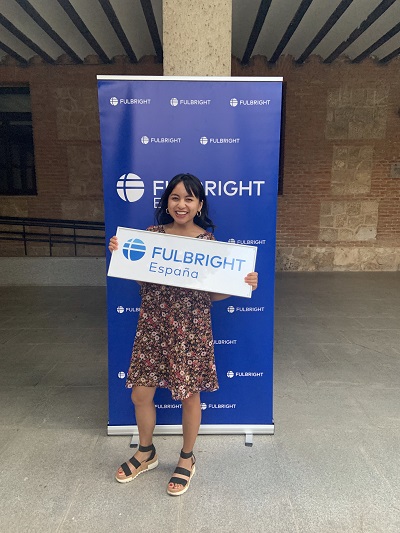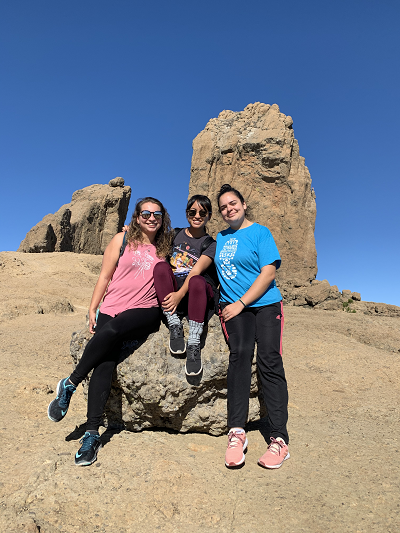 From top to bottom: Fulbright orientation; Roque Nublo, a volcanic rock on the island of Gran Canaria
----------------
Fulbright ETAs in Spain assist local English teachers in the classroom. For more information, attend an ONIF info session or visit https://us.fulbrightonline.org/countries/selectedprogram/236.