ONIF Alumna Spotlight
January 18, 2019
Name: Lauren Rowland
Degree: B.A. in Liberal Studies
Graduation Year: 2018
Fellowship Award: Fulbright English Teaching Assistant (ETA) to Laos. I was given a grant to live and teach in Vientiane, Laos for a year. Despite the title of an English Teachers Assistant, I am actually a lead teacher here in Vientiane, training English learners at a Hospitality and Tourism College.
What are your current or future career plans? I am currently considering my options of either extending my grant for another 12 months here in Laos or returning to California to start my career as an Elementary California Educator.
What have you enjoyed most about the program? My students are the greatest part of my experience here! They are so incredibly appreciative and sweet and make every day an adventure filled with laughs and charades.
What has been the most challenging part of the program? I would say the biggest challenge from my time here would be attempting to learn the language. Lao is a beautifully written language with a ridiculous amount of vowels and tones. One word can mean four different things if said in the four different tones (which are barely distinguishable to the untrained ear). Luckily the Lao people are incredibly patient and get excited with any attempt at their language, so slowly over the past few months, I have improved!
What advice do you have for future applicants? My best advice would be to contact past ETAs from the country you are planning to visit to get the true feel of what life would be like. The US Embassy employees barely scrape the surface of what each individual ETA experiences, so the more information you know the better prepared you'll be in adapting and preparing for your time abroad! I would also like to strongly highlight that the F in Fulbright stands for FLEXIBLE!!! Odds are most things will not be what you expect, so just go with it and enjoy your year abroad to completely and totally focus on you and your experiences! As we say here in Laos, Bo Pen Yang! No worries!
What would people be surprised to know about you? I have horrible allergies!!! I decided to live in a country where I am allergic to almost every fruit grown and sold. The past five months, I have been tiptoeing around trying most of the fruit (which is a huge bummer). I came to Laos packed with 8 EpiPens, in case of emergencies, and two big bags of medications. I picked probably one of the worst countries for me personally to be living in, given some of the food and lack of medical facilities available, but so far, I am surviving and thriving!
Additional comments: I just want to highlight that only three people in my cohort have teaching experience! Fulbright is for anyone who wants to be completely embedded in a culture and expand their horizons! This has by far been one of the hardest and most rewarding experiences I have ever had, and cannot stress enough how phenomenal this would be for anyone from any background of experience.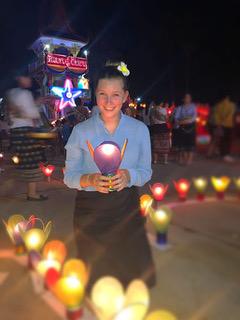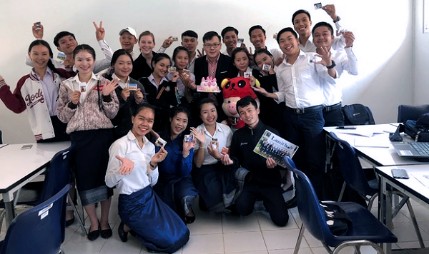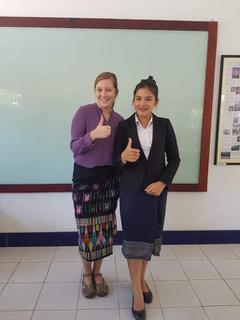 ----------------
The Fulbright U.S. Student Program offers research, study, and teaching opportunities in over 140 countries to recent graduates and graduate students. For more information, visit https://us.fulbrightonline.org/fulbright-us-student-program or contact ONIF.