ONIF Student Spotlight
January 17, 2020
Name: Dillon Rinauro
Major: Biochemistry
Graduation Year: 2019
Fellowship Award: Gates Cambridge; a prestigious scholarship to the University of Cambridge that covers the full cost of a postgraduate degree in any subject, includes an annual living stipend and discretionary funds for academic and professional development.
What are your current or future career plans? My current research involves the kinetic analysis of tau aggregation, a protein observed in neurons and known to misfold and aggregate, eventually leading to neurodegenerative diseases such as Alzheimer's and Parkinson's. This project will last throughout my time at Cambridge, however, I'll be collaborating with a peer to analyze the effects of post-translational modifications, such as site-specific phosphorylation, on the aggregation kinetics of tau. I also plan to work as a consultant for a biotech company designing a variety of compounds to be used as potential therapeutics.
After I finish at Cambridge, I'll have obtained my Ph.D. in Chemistry. Having fallen in love with the field in my undergrad at LMU, I hope to continue in this field of research after my postdoc in academia. I also hope to work on health policy and to collaborate with institutes such as the World Health Organization and U.N. on affordable healthcare and treatment options for Alzheimer's, dementia, and other diseases involving misfolding proteins.
What did you enjoy the most about the program? I've really enjoyed all of the friends I've made through the Gates-Cambridge Trust, through my research lab, and through St John's College, the college I'm a member of at the University. It's been great to have such a fantastic support team within my research group. Many of the older graduate students in the lab have served not only as mentors when my supervisor couldn't, but as friends too. Outside of the lab, it's an incredible experience to hear about all of the amazing research that other friends are doing. Beyond my research, the university and town itself have so much to offer; when you throw in how much easier it is to travel throughout Europe, it has certainly kept me busy, in a good way of course! I'm excited to call Cambridge home for the next four years, potentially more!
What was the most challenging aspect of the program? The hardest part was the loss of my advisor and the director of the centre, Sir Christopher Dobson, who passed away this past September due to pancreatic cancer. Along with the wonderful faculty at LMU, Chris played a vital role in helping me get to Cambridge and his loss had a huge impact on the Centre for Misfolding Diseases. The first month of my time at Cambridge was spent trying sorting out bits and pieces of my research project with my new advisor, Michele Vendruscolo, a fellow of the Centre, that had yet to be finished with Chris. Although I had already spent four years in the field of misfolding proteins, I spent the other half of my time reading a plethora of articles trying to gain a better understanding of tau protein and its enigmatic properties. Beyond the loss of Chris, attending a university like Cambridge and with all the prestige it offers can easily take a toll on one's mental health, me being no exception, manifesting itself in a variety of different ways, from homesickness to imposter syndrome.
What advice do you have for future applicants? Be prepared for a long process ahead! Beyond the countless drafts of research proposals and personal statements, you'll have plenty of interviews, an extensive visa application process (which you should start as soon as you can) and the adjustment to living abroad long term. Take time to really organize yourself at this stage and plan out what to do and when to have it done by because these to-dos usually require a quick turnaround on your end!
What would people be surprised to know about you? I've recently started working on the board for a non-profit known as Laugh 4 Change in my free time! We organize comedy shows and welfare events that raise money for refugees throughout Europe.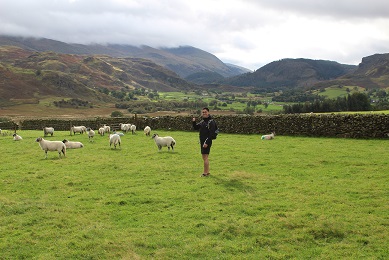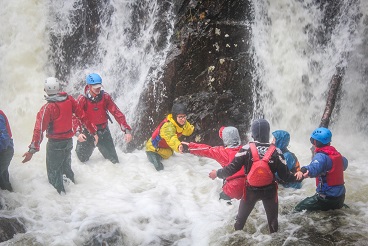 From left to right: Herding sheep at Stone Circle of Cumbria. Gorge scrambling with friends Thomas, Lea, D'Arcy, Kris, Felix, and other Gates scholars in the Lake District.
----------------
The Gates Cambridge Scholarship offers full-cost scholarships to outstanding applicants from countries outside the UK to pursue a full-time postgraduate degree in any subject available at the University of Cambridge. To learn more, attend LMU's Feb. 20 Info Session or visit https://www.gatescambridge.org/ or contact ONIF.