ONIF Student Spotlight
January 8, 2021
Name: Simone Scott
Pronouns: She/her/hers
Major: Screenwriting, French
Graduation Date: May 2020
Fellowship Award: Teaching Assistant Program in France (TAPIF), language assistants from all over the world assist in foreign language classes in France.
What are your current or future career plans? I plan to teach for another year in France and then pursue my master's degree.
What have you enjoyed most about the program? I really like working with my students! Their perspectives on the English language or events happening in the US often make me laugh. It's been really cool acting as a cultural ambassador because in the part of France I live in, many people have never interacted with an American before.
What was the most challenging aspect of the program? The most challenging aspect has been dealing with COVID-19. Three days after I got here, France went on a nationwide lockdown for 6 weeks. Even now with restrictions eased, I can't travel outside of the country, and restaurants and museums remained closed. I was prepared for these challenges and I still am able to do a lot of cool and interesting things but this isn't the full experience. I am thankful that I do get to continue to teach and do my job!
What advice do you have for future applicants? Be open to new experiences and be flexible! You don't get to choose exactly where in France you'll be placed, but it's a beautiful country with so much to offer you'll be okay even if you don't end up in a big city.
What would people be surprised to know about you? I have become a pretty avid knitter.
Final comments: I decided to do this program because I really wanted to improve my oral French and I think I've been successful so far!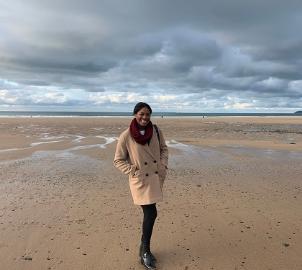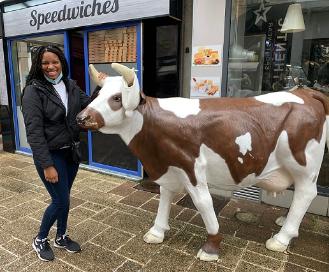 Caption: I live right on the English Channel so there are so many beautiful beaches, much different than the ones you'd find in LA. There's a famous cheese shop in my town with a cow out front.
----------------
The Teaching Assistant Program in France offers you the opportunity to work in France for 7 months, teaching English to French students of all ages. TAPIF is currently recruiting for the 2022-2023 academic year. Apply by Jan. 15! To learn more, visit https://frenchhighereducation.org/teaching-assistant-program or contact ONIF.