LMU Summer Abroad offers a unique and exciting opportunity for students to continue learning from LMU's world-class faculty whose expertise span the globe. Embark on one of our faculty-led summer programs for an immersive academic experience as you explore the sights, sounds and culture of a new city abroad!
CROATIA: LMU SUMMER IN ZAGREB

LMU Summer in Zagreb is a five-week summer program that will explore Zagreb, Croatia, Sarajevo, Bosnia-Herzegovina, and Vis, Croatia. This program will examine the dynamics of conflict and the challenges involved in bringing about reconciliation among groups divided by distrust and enmity. Students will take two courses that offer 8 LMU core credits with numerous core and flag fulfillments. You will meet and converse with war survivors, and political, religious, and intellectual figures. This, in turn, will allow you to examine tendencies to exclusion and violence in their own lives, and to develop hospitable practices and attitudes that lead to peace. Courses will be taught in Zagreb at the European Center for the Study of War and Peace (ECSWP).
PHIL 3998 Narrative and Identity (4-units)
Taught by LMU Professor Brian Treanor
Core Requirements: Interdisciplinary Connections, Writing Flag and Oral Skills Flag
PHIL 3998 War and Peace: Philosophical and Theological Perspectives (4-units)
Taught by Dr. James Taylor
Core Requirements: Faith & Reason, Engaged Learning Flag
ENGLAND: LMU SUMMER IN OXFORD

The LMU Summer in Oxford program is a four-week long program where students get to live the life of an Oxford university student at Queen's College: living in the university dorms, attending classes, dining in the great hall, and punting along the river in the afternoons. This summer come explore Oxford and Queen's and wander along the cobbled lanes, get lost in the great libraries, have afternoon tea, and live in the city that was home to such notable personalities as Oscar Wilde, J. R. R. Tolkien, Hugh Grant, the band Radiohead, and even Eric Garcetti, mayor of Los Angeles. Students enroll in two of the following courses:
WNST 1998: Intro to Women's Studies II: Black British Feminism (4-units)
Taught by LMU Professor Sina Kramer
Core Requirements: Studies in American Diversity
PSYC 3998: Neuropsych of Oliver Sacks (4-units)
Taught by LMU Professor David Hardy
Core Requirements: Interdisciplinary Connections
POLS 4030/THST 3560: Punishment and Mercy (4-units)
Taught by LMU Professor Andrew Dilts
Core Requirements: Ethics and Justice, Information Literacy Flag and Orals Skills Flag
FRANCE: LMU SUMMER IN PARIS

LMU Summer in Paris is a five-week summer program in Paris, France. Spend your summer surrounded by the iconic Eiffel Tower, the Arc de Triomphe, and the glamorous avenue des Champs-Élysées in Paris. You will have the opportunity to immerse yourself in French culture by visiting museums, architectural sites, and attending art performances. Discover all that France has to offer while earning upper division credit in courses taught by LMU professors and developing your French language skills. Experience a city of excellent food, joie de vivre, creativity, literature, philosophy, and science this summer by participating in LMU Summer in Paris. Students enroll in one French language course and one of the following courses:
FREN 1998, 2998, or 3998: Elementary, Intermediate, Advanced French
BCOR 3510: Marketing and Business Communication (4 units)
Taught by LMU Professor Aidin Namin
Core Requirements: Business Core, Oral Communications Flag
FREN 4241/FNLT 4998: Paris métisse: Multiculturalism (4 units)
Taught by LMU Professor Marc Lony
Core Requirements: Engaged Learning Flag
Join us for a 4-week Odyssey traveling, studying, and exploring the land and vibrant culture of the cornerstone of Western civilization! The Odyssey program is an LMU faculty led program that begins in Athens where students visit the magnificent Acropolis, the ancient Agora, and various museums and art spaces around the city. A walking tour of the city and its street art provides students with a feel for Athens as a modern European metropolis. The group continues their exploration with a week-long trip all around Greece for visits to significant sites: the ancient theatre of Epidavros, Mycenae, Corinth, Nafplio, Sparta, Mystra, Olympia, Delphi, and Meteora are some of the places we visit. The remaining three weeks of the academic program takes place on the beautiful island of Spetses, famous for its history, distinctive architecture, stately mansions, and lovely beaches. Students will have an opportunity to immerse themselves into Greek life and culture while exploring Spetses and the nearby island of Hydra. Students will enroll in the following two courses:
MDGK 3342/ENGL 3341/FNLT 3998: Ancient Landscapes: Modern Voices
Modern Greek Society & Culture (4-units)
Taught by LMU Professor Christina Bogdanuo
Core Requirements: Interdisciplinary Connections, Engaged Learning Flag
Second Course - To be announced

ITALY: LMU SUMMER IMMERSION IN ROME: CHRISTIANITY AND ART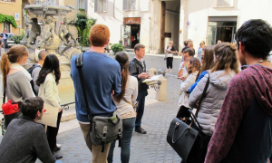 Experience a vibrant city, beautiful art, awe-inspiring ruins, and delicious food! LMU Summer Immersion in Rome: Christianity and Art is a 10-day program in May led by LMU faculty in Rome, Italy. Through class readings and daily site visits to places of historical importance, students examine perspectives coming from different academic disciplines as they investigate how Christianity helped to initiate a new architectural and artistic vocabulary.
CATH 3988 / THST 3988 / ARHS 4754: Christian Faith and Visual Culture in Rome (4 units)
Taught by LMU professors Dr. Kirstin Noreen and Fr. Marc Reeves
Core requirement: Faith and Reason Core and Engaged Learning Flag
Notes: Application for this immersion program is due November 30, 2021. There will be three required Saturday classes during the spring semester.

ITALY: LMU SUMMER IN ROME

Imagine spending your summer sipping espresso on the cobble-stone streets of one of the world's oldest cities. Picture yourself walking past the coliseum on your way to the day's lecture and chatting in Italian as you enjoy a raspberry gelato under the warm Mediterranean sun. The LMU Summer in Rome program provides an immersive academic experience to student's seeking to make this Italian capital city their new home for five weeks. Living in shared private apartments, students are taught by LMU faculty and engage in coursework designed to expose the rich history, culture, and livelihoods that make up modern Rome. Students will enroll in two of the following courses:
ITAL 2101, 2102, 3999: Italian 1,2, or Compensation and Conversation (4 units)
BCOR 3610: Managing People and Organizations (4 units)
Taught by LMU Professor Ellen Ensher
Core Requirements: Business Core
ITAL 3251/FNLT 3998: Italian Food Cultures (4 units)
Taught by LMU Professor Aine O'Healy
Core Requirements: Engaged Learning Flag and Oral Skills Flag


USA: LMU AT THE WASHINGTON CENTER IN DC

Spend your summer term living, working, and learning in our nation's capital. The Washington Center Academic Internship Program combines real-world professional experience with an academic component, providing you with an ideal setting to make connections and enhance your resume. TWC will assist you in obtaining an internship that closely matches your personal and professional goals.


Additional summer program opportunities will be available later in November.