Mia Watson
Director
Phone: (310) 338-5861
Email: Mia.Watson@lmu.edu
Mia Watson joined LMU as the Director of the Academic Resource Center (ARC) in 2017. Following receiving a BA in English Literature from UCLA, Mia received an MA in Interdisciplinary Studies with a concentration in Art from California State University, Long Beach. Prior to coming to LMU Ms. Watson work at UCLA managing retention and outreach programs for the Division of Student Affairs and the Graduate School of Education and Information Studies. As a visual artist with a passion for painting, Ms. Watson brings a creative spirit to her leadership of the ARC.
Morgan Gross
Associate Director
Phone: (310) 338-7698
Email: Morgan.Gross@lmu.edu
Morgan Gross earned her BA in English from Southwestern University in Georgetown, Texas, her MA in Rhetoric and Composition from Texas State University in San Marcos, and her PhD in Rhetoric and Composition from Ball State University in Indiana. She comes to LMU with years of experience in teaching and writing program and writing center administration. Dr. Gross's research interests include language diversity, social justice, and writing center theory and practice. In line with LMU's mission and her own values, Dr. Gross will work to encourage learning through writing, educate tutor staff and student clients as whole persons, and promote justice in her role as Associate Director of the ARC, responsible for the Writing Center and the Course Tutoring program.
Alexia (Lexie) Pineda
Program Coordinator, First To Go
Phone: (310) 338-7653
Email: Alexia.Pineda@lmu.edu
A first-gen Lion, Lexie received her BA in Communication Studies and Women and Gender Studies from LMU in 2016, and recently earned her MA in Social Sciences and Comparative Education from UCLA in June 2018. Prior to stepping into her current role, Lexie worked as an Outreach and Operations Manager for UCLA's Graduate Student Resource Center, and served LMU's First To Go Community in multiple capacities and roles between 2012-2017. As a first-generation Los Angeles native and Chapina-Xicana who has been influenced and educated by Jesuit values, she relies on theories of praxis and community to inform and guide the first-generation student population on LMU's campus.
Jacqueline (Jackie) Leung
University Advisor
Phone: (310) 258-2605
Email: Jacqueline.Leung@lmu.edu
Jackie Leung earned her undergraduate degree in International Business from the University of Denver where she also competed as a Division I student athlete in swimming. She received her MA from LMU in Urban Education and is currently pursuing her MBA at LMU as well. Jackie is passionate about ensuring that students have access to all the resources necessary to be successful in their educational journeys.
Melissa Shelton
University Advisor
Phone: (310) 338-7678
Email: Melissa.Shelton@lmu.edu
Three-time Lion, Melissa received her BA in English, MA in Higher Education Administration, and started her career all at LMU. As a former ARC writing tutor, GSLMU president, and a resident advisor, Melissa began her professional career at LMU with the Student Affairs Dean's Office before transferring to the ARC. Melissa currently serves as the on-campus advisor for Alpha Phi. It is her goal to contribute to the overall LMU community by assisting students with their educational goals.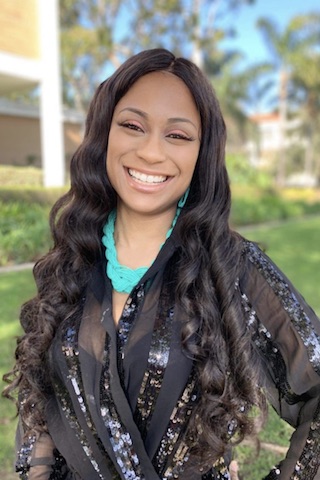 Capresha Hawthorne
Administrative Coordinator
Phone: 310-338-1758
Email: Capresha.Degourville-Hawthorne@lmu.edu
Capresha Hawthorne joined LMU as an Administrative Coordinator for the Academic Resource Center (ARC) in 2019. She received her BA in Mass Communication and a minor in Music from California State University, Dominguez Hills. Prior to working at LMU, Capresha worked as an Administrative Coordinator and SOLAR Coordinator at California State University, Northridge. Capresha's mission is to provide resources and tools for students to accomplish their goals at LMU.