LMU students and alumni may schedule fellowship advisement appointments with ONIF using our online scheduling tool. On campus, Zoom, and phone appointments are available.
1. Select appointment type. Appointments available include:
Intake: Select this service if this is your first meeting with ONIF. Complete this intake form prior to your appointment.
Initial Visit- Select this service to discuss program or application details about a specific fellowship and your interest in or connection to the fellowship.
Follow-Up Consultation: Select this service after your intake session or initial visit, when you have additional questions about fellowships or REUs. Do not select this service if seeking feedback on your application materials.
Essay Review: Select this service to receive feedback on fellowship or REU application. Email ONIF a draft of your essay, in a Word doc, at least 1 business day before our meeting. Please include the essay prompt*.
Quick Check-In: Select this service to ask time-sensitive questions about a specific fellowship or REU application. This is not a substitute for an Intake Session, Initial Visits, or an Essay Review. Come prepared with questions.
Mock Interview: Select this service if you want ONIF to organize a fellowship or REU mock interview. Mock interviews consist of 20 minutes of questions, followed by 20 minutes of feedback, and must be scheduled at least 72 hours in advance.
*Failure to email questions/topics/essay drafts may result in the cancellation of your appointment.
3. Select "See Times" and choose from staff availability.
4. Enter your Full Name, LMU email address, and Student ID.
5. You will receive a confirmation and email reminders from 10to8.
ONIF is located in Leavey Suite I, between Iggy's Cafe/McKay Hall and the Collins Center. Once you are near Leavey Center, walk towards the small chapel (Leavey Chapel). The ONIF office faces Ignatian Circle Street. See the map below.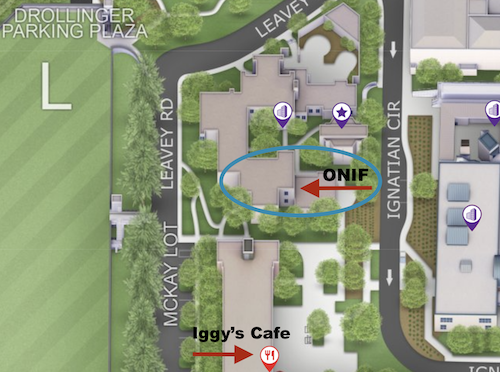 If you require a meeting before 8:00 a.m. or after 6 p.m. PT, please email fellowships@lmu.edu to request availability.
---
Important:
Please arrive at your appointment on time. Cancellations or changes in appointment date and time must occur through Sign In Scheduling at least 24 hours prior to your appointment.
ONIF supports students with external awards only. For questions regarding LMU scholarships and financial aid, please contact LMU's Financial Aid Office.