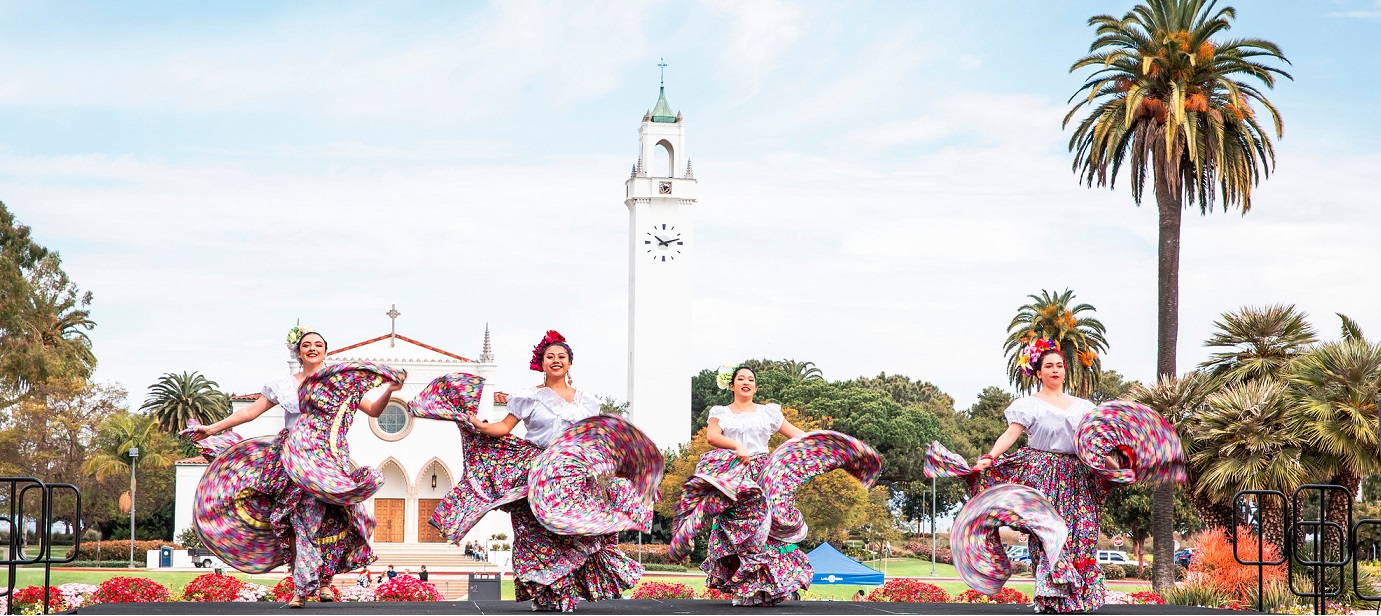 Postgraduate fellowships abroad are opportunities for recent graduates or graduate students to gain hands-on experience in another country. Fellowships may range from a few weeks to two years and may include travel costs, a living stipend, and more.
Resources
Please note: many external awards fall into more than one category. If you would like assistance identifying fellowship opportunities, please contact ONIF. For campus scholarship listings, login with your LMU ID here.
Deadlines are approximate.
AIF Banyan Impact Fellowship to India

An immersive, 10-month volunteer service program matching young professionals with development organizations. Fellows work on scalable and sustainable development projects in the fields of education, livelihoods, technology and innovation, and public health.

Benefits:

A roundtrip ticket from their point of origin to India
Insurance coverage
A monthly living stipend.

Eligibility:

Be a U.S. or Indian citizen, or a U.S. permanent resident
Be between the ages of 21 and 34, before the start of the program
Have completed a Bachelor's degree before the start of the program

National Deadline: January

American Scandinavian Foundation Fellowship

The American-Scandinavian Foundation (ASF) promotes firsthand exchange of intellectual and creative influence between the United States and the Nordic countries: Denmark, Finland, Iceland, Norway, and Sweden.

Amount: fellowships - up to $23,000; grants - up to $5,000

Location: Nordic Countries (Denmark, Finland, Iceland, Norway, and Sweden)

Eligibility: Must be a United States citizen or permanent resident. Must have completed their undergraduate education by the start of the fellowship.

National Deadline: November 1

Results Announced: April 15

The American University in Cairo Presidential Associates Program

Established in 1981, the Presidential Associates Program at The American University in Cairo (AUC) provides recent university graduates with the opportunity to work at the highest levels of an international university, experience life in Cairo and learn Arabic. Benefits: housing, monthly stipend, settling-in allowance upon arrival in Cairo, insurance, funding for travel in Cairo/Egypt, Arabic private tutoring (60 hrs per semester).

Eligibility:

Must be a recent university graduate
Open to American citizens or permanent residents

National Deadline: February

Anatolia College Fellowships in Greece

Fellowship opportunities for recent college graduates during the academic year – especially those interested in applying their liberal arts, human and international relations skills in an educational setting. From teaching, mentoring, counseling, to doing institutional research, they are seeking recent college graduates from a wide range of backgrounds. All fellows are provided housing on campus. Fellowships include full room and board, plus up to 1000 Euros for one round trip air economy ticket to/from Greece, and a monthly stipend of €400.

Eligibility: Please email Georgia Proestopoulos, gpro@anatolia.edu.gr with any questions and to access the application.

National Deadline: February

Chile's English Opens Doors Program

A fee-free Program serving the students, teachers, and school communities of Chile's public education system. EODP volunteers make a lasting impact on the lives of their students, motivating them to improve their English and participate in cross cultural exchange. They are seeking committed volunteer teachers who wish to make a significant impact on the English language level of their students for periods of one to two semesters at a time

Amount: They provide volunteers with a modest stipend which is meant to assist with minor daily expenses like transportation to school or extra classroom materials or activities. Volunteers will need to have access to sufficient funds to support any personal expenditure throughout the duration of the Program. The biggest cost volunteers will incur is their international transportation to and from Chile.

Location: Chile.

Eligibility:

Speak English at a native level
Have a bachelor's degree by the start of the program
Be between the ages of 21 and 35

National Deadline: Varies, March or April for summer start

Results Announced: Varies

The Fulbright U.S. Student Program offers research, study, and teaching opportunities in over 140 countries to recent graduates and graduate students. They include approximately 2,000 grants for individually designed study/research projects or for English Teaching Assistant Programs. During their grants, Fulbrighters will meet, work, live with and learn from the people of the host country, sharing daily experiences. The program facilitates cultural exchange through direct interaction on an individual basis in the classroom, field, home, and in routine tasks, allowing the grantee to gain an appreciation of others' viewpoints and beliefs.

Campus Deadline: August 31

National Deadline: October

Results Announced: March-April

Gates Cambridge Scholarships are awarded to outstanding applicants from countries outside the UK to pursue full-time postgraduate degrees in any subject available at the University of Cambridge. Gates-Cambridge Scholarships apply to the following programs: PhD (three-year research-only degree), MSc or MLitt (two-year research-only degree), One-year postgraduate course (e.g. MPhil, LLM, MASt, Diploma, MBA).

Amount: Award amount varies by participant to compensate for the University Composition Fee, student allowance, one economy single airfare at both the beginning and end of the course, and inbound visa costs & associated NHS surcharge costs.

Location: University of Cambridge, UK

Eligibility: Must be a citizen of any country outside the United Kingdom.

Campus Deadline: August 31

National Deadline: October for U.S. citizens, December for international students.

Results Announced: February

Intensive and demanding, the Humanity in Action Fellowship brings together international groups of college students and recent graduates to explore national histories of discrimination and resistance—including the political foundations of racial hierarchies, Anti-Semitism, Islamophobia and colonial domination—as they affect different minority groups today. The Fellowship seeks to educate, connect and inspire the world's future leaders in the fields of human rights and social justice.

Each program is highly interdisciplinary and features daily lectures and discussions with renowned academics, journalists, politicians and activists, as well as site visits to government agencies, non-profit and community organizations, museums and memorials. The programs seek to highlight different models of action to remedy injustice.

Where: Amsterdam, Atlanta, Berlin, Copenhagen, Detroit, Sarajevo or Warsaw. Applicants may apply to both the Humanity in Action Fellowship programs in Europe and the United States through a single application. However, they cannot choose their city of participation.

Benefits: HiA covers the costs of participation and accommodation during the fellowship programs. However, all Fellows will be responsible for financing the cost of round-trip airfare to their program city. HiA will cover this cost for Fellows with documented need.

Although Fellows receive modest stipend for meals, they should also plan to bring spending money of approximately $750 for food and social activities during the fellowship program.

Eligibility: Currently enrolled sophomores, juniors and seniors; or recent graduates (less than two years after undergrad).

National Deadline: January

Luce Scholars spend 13 months living and working throughout Asia (Cambodia, China, Hong Kong, India, Indonesia, Japan, Laos, Malaysia, Mongolia, Myanmar, Nepal, Philippines, Singapore, South Korea, Taiwan, Thailand, Vietnam, Sri Lanka, or Timor Leste).

The Luce Scholar Year begins with the orientation in mid-June through the wrap-up meeting in late-July of the following year. After orientation, Luce Scholars spend July and August engaging in intensive language training in their respective placement countries. Individually tailored professional placements begin in early September and are arranged for each Scholar based on their professional interest, background, and qualifications.

Eligibility:

Candidates must be U.S. citizens or permanent residents.
Candidates may be graduating seniors, recent graduates, or young professionals under the age of 32 or, no more than three years out from receiving bachelor's degree.
Candidates who have majored in Asian Studies are now eligible to apply.
Candidates who have spent 18 weeks or more (since beginning college) in one of the countries where we place Luce Scholars are eligible to apply to be placed in a country where they do not have significant experience.

National Deadline: October

Marshall Scholarship

The Marshall Scholarship provides up to 41 Scholars the opportunity to study at the graduate level at a UK institution in any field of study.

Amount: Award amount varies by participant to compensate university fees, cost of living expenses, annual book grant, thesis grant, research and daily travel grants, fares to and from the United States and, a contribution towards the support of a dependent spouse (if applicable).

Location: United Kingdom.

Eligibility: Must be a United States citizen who has received an undergraduate degree with a minimum GPA of 3.7. Persons already studying for or holding a British degree or degree-equivalent qualification are not eligible to apply for a Marshall Scholarship.

Campus Deadline: August 31

National Deadline: October

Results Announced: December

Mitchell Scholarship

The Mitchell Scholarship funds up to twelve students for one academic year of postgraduate study in any discipline offered by institutions of higher learning in Ireland and Northern Ireland.

Amount: Award amount varies by participant to provide tuition, housing, a cash stipend for living expenses, and a travel stipend.

Location: Ireland.

Eligibility: Must be a U.S. citizen between 18 and 29 years of age as of September 30 of the application year. Applicants need to have obtained a bachelor's degree prior to study as a Mitchell Scholar.

Campus Deadline: August 31

National Deadline: Late September

Results Announced: Late November

Princeton in Africa Fellowship

Princeton in Africa matches talented and passionate college graduates with organizations working across Africa for yearlong service placements.

Amount:

On-the-ground expenses including housing and living stipend.
Medical insurance, medical evacuation insurance and security evacuation insurance
Pre-departure orientation for all Fellows.
Mid-year retreat in Africa (including partial travel grant for travel to/from the retreat).

There is a $50 application fee and a $150 placement fee. Fellows are expected to cover their own airfare to/from the placement country and visa application fees.

Location: Africa

Eligibility: Young alumni and graduating seniors from any college or university accredited in the United States are eligible to apply. Prior experience in Africa is not a prerequisite.

National Deadline: October

Results Announced: February-May

PiA sponsors over 150 fellowships and internships in 20 countries and is the oldest and largest organization of its kind, unique in its scope, size, century-long expertise and emphasis on service.

Amount:

A local stipend, paid directly by the host organization.
An orientation program including travel, health, visa, and packing information as well as cultural and current affairs background on fellowship locations.
Travel medical and emergency evacuation insurance for all Fellows in need of coverage and who qualify for PiA's international travel plan.
Language grants (awarded selectively).
Assistance in student loan deferments in the form of letters issued to student loan agencies.

There is a $60 application fee and a $550 placement fee. Fellows are expected to cover their own airfare to/from the placement country and visa application fees.

Location: Asia

Eligibility: PiA applicants are generally college seniors or recent graduates.

All applicants MUST be able to attend one of our interview sessions in January. Interviews will be located at Princeton University as well as in select cities on the East Coast, Midwest, and West Coast. Applicants who are based outside of the continental U.S. are eligible for interviews via Skype.

National Deadline: November

Results Announced: Mid March

Princeton in Latin America Fellowship

PiLA matches partner organizations engaged in socially responsible development projects in Latin America and the Caribbean with highly qualified and motivated recent college graduates who are interested in year-long service fellowships throughout the region.

Amount:

Housing, utilities, food, local work-related transport, and personal essentials. Fellows should expect to live modestly in local terms.

Fellows generally cover or find outside help to cover airfare and mandatory overseas insurance.

Location: Latin America

Eligibility: Application is open to all graduating seniors and young alumni of North American universities who are U.S. citizens or permanent residents. International (not U.S. citizens or permanent residents) applicants who are graduates of North American universities should contact PiLA at applications@pila-princeton.org for more information about eligibility. Limited opportunities are available to international students.

National Deadline: November

Results Announced: February

Rhodes Scholars receive full funding to pursue any graduate degree at Oxford University. Scholars are chosen not only for their outstanding scholarly achievements, but for their character, commitment to others and to the common good, and for their potential for leadership in whatever domains their careers may lead.

Amount: Varies.

Location: Oxford University in the United Kingdom

Eligibility: No citizenship requirements. However, non-U.S. citizens may have an earlier application deadline and should consult the website for more info. Must be at least 18 but not yet 24 years of age. To be considered, an applicant must be on track to receive a bachelor's degree before October of the application year.

Campus Deadline: August 31

National Deadline: August for non-U.S. citizens; October for U.S. citizens, permanent residents, and DACA students.

Results Announced: Late November

Designed to prepare the next generation of global leaders, Schwarzman Scholars is the first scholarship created to respond to the geopolitical landscape of the 21st Century. Whether in politics, business or science, the success of future leaders around the world will depend upon an understanding of China's role in global trends.

With the inaugural class enrolled in 2016, the program gives the world's best and brightest students the opportunity to develop their leadership skills and professional networks through a one-year Master's Degree at Tsinghua University in Beijing – one of China's most prestigious universities.

Students live and study together on the campus of Schwarzman College, a newly-built, state-of-the-art facility, where all classes are taught in English. Students pursue a Masters in Global Affairs, with concentrations in one of the disciplines:

Public Policy
Economics and Business
International Studies

Students spend a year immersed in an international community of thinkers, innovators and senior leaders in business, politics and society. In an environment of intellectual engagement, professional development and cultural exchange, they learn from one another and pursue their academic disciplines while building their leadership capacities. This experience will expand students' understanding of the world and create a growing network of global leaders for the future.

Benefits:

Tuition Fees
Room and board
Travel to and from Beijing at the beginning and end of the academic year
An in-country study tour
Required course books and supplies
Lenovo laptop and smartphone
Health insurance
A personal stipend of $3,500

Eligibility:

Undergraduate degree or first degree from an accredited college or university or its equivalent
Candidates must be at least 18 but not yet 29 years of age as of August 1 of the application year
English language proficiency

National Deadline: Early September

Results Announced: December

Yenching Academy of Peking University

The Yenching Academy of Peking University offers a Master's degree in China Studies. This specially designed, English-taught program aims to push the study of China beyond the boundaries of traditionally defined Humanities and Social Sciences disciplines. It creates space to incorporate the diverse backgrounds and experiences of program participants into the study of ancient, modern, and contemporary China, effectively acting as an incubator for innovative approaches to past, present, and future Chinese transformations. At the core of the program lies its emphasis on interdisciplinarity and the value it assigns to thinking about China's development from both Chinese and international perspectives.

Fellowships for international Yenching Scholars are for twelve months, during the course of which they complete their coursework and may complete the thesis. A limited number of financial aid packages are available for those who wish to remain on campus for a second year. Degrees are granted upon the completion of all coursework and satisfactory defense of the thesis, and are awarded in January and July of each year.

Benefits:

Tuition fees
A travel stipend for one round-trip journey between each Scholar's base city and Beijing
Accommodations and living costs on Peking University's campus
Basic medical insurance

Eligibility:

Preference to candidates age 25 or younger as of August 31 of the year they wish to enroll

Evaluation criteria:

Academic merit
Leadership potential
International experience
Long-term aspirations

Campus Info Session: April 26 at 12:30 p.m.,Online

Campus Deadline: November 15

National Deadline: December