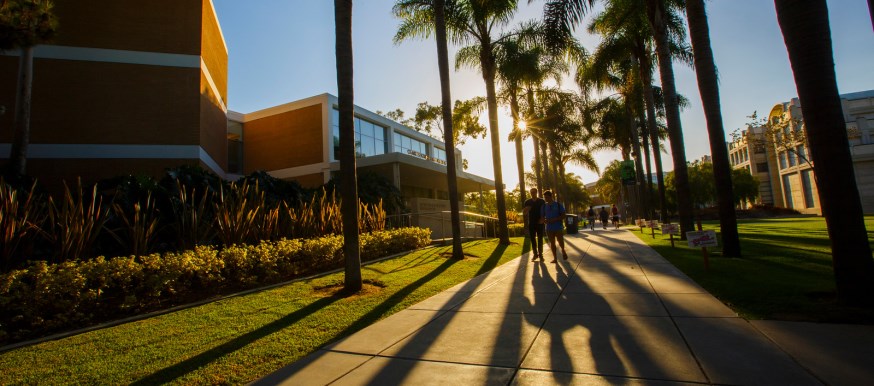 ‌Please note: many fellowships fall under more than one college. For LMU scholarship listings, log in with your LMU ID here.
The opportunities below represent a sample of fellowships available to BCLA students and alumni.
To receive a personalized list of fellowships based on your interests and goals, ONIF encourages you to schedule an advisement appointment or email fellowships@lmu.edu.
Deadlines are approximate.
AIF Banyan Impact Fellowship to India

An immersive, 10-month volunteer service program matching young professionals with development organizations. Fellows work on scalable and sustainable development projects in the fields of education, livelihoods, technology and innovation, and public health.

Benefits:

A roundtrip ticket from their point of origin to India
Insurance coverage
A monthly living stipend.

Eligibility:

Be a U.S. or Indian citizen, or a U.S. permanent resident
Be between the ages of 21 and 34, before the start of the program
Have completed a Bachelor's degree before the start of the program

National Deadline: January

American Scandinavian Foundation Fellowship

The American-Scandinavian Foundation (ASF) promotes firsthand exchange of intellectual and creative influence between the United States and the Nordic countries: Denmark, Finland, Iceland, Norway, and Sweden.

Amount: fellowships - up to $23,000; grants - up to $5,000

Location: Nordic Countries (Denmark, Finland, Iceland, Norway, and Sweden)

Eligibility: Must be a United States citizen or permanent resident. Must have completed their undergraduate education by the start of the fellowship.

National Deadline: November 1

Results Announced: April 15

Beyond Baroque Literary Arts Center Poetry Coalition Fellowship

The Poetry Coalition Fellowship Program is a three-year pilot program. The goals of this are to help:

diversify the leadership of the nonprofit literary field by encouraging more inclusion of individuals from under-represented communities;
develop future literary leaders regardless of educational background;
introduce the individuals who are interested to nonprofit literary arts management, fundraising, programming, and editorial work, providing experiences that will be useful as they seek jobs and inspiring them to consider working in the literary field; and
increase the capacity of our individual organizations by having additional assistance.

The Poetry Coalition Fellow in Programs & Communications position supports the planning, curating, publicizing, and producing of Beyond Baroque's literary programs. We seek a candidate who can help think creatively, strategically, and collaboratively about Beyond Baroque's programming, which includes readings, talks, multidisciplinary performances, and workshops. An ideal candidate will have experience in nonprofit management and a deep knowledge of contemporary poetry and literature in both Los Angeles and on the national level. An ideal candidate will also have knowledge of, and interest in, the intersection of poetry with other literary, artistic, social, political, and cultural concerns. The Poetry Coalition Fellow in Programs & Communications reports to the Executive Director.

Amount: This position is 20 hours per week from September to June. The stipend is $18,720 plus $1,000 toward health care.

Location: Venice, CA

Eligibility: We welcome all applicants, including those who are enrolled in or have recently graduated from MFA programs in creative writing.

National Deadline: July

Bill Emerson National Hunger Fellowship

During the 11-month fellowship, Fellows develop a deep understanding of effective solutions to hunger and poverty in the US. Following orientation and training in Washington, D.C., Fellows spend five months with community-based organizations. In mid-February Fellows return to D.C. for a second placement with organizations and government agencies focused on national anti-hunger and anti-poverty policy

Benefits:

The Hunger Center establishes its financial packages for fellows based on their location, taking into consideration the cost of living at both the field and policy placements.
Emerson Fellows typically receive financial packages ranging from $38,000 to $45,000 over the duration of the fellowship
Emerson alums pursuing Masters' degrees in public health or public policy at select institutions of higher learning are eligible for significant discounts on tuition. As of 2020, the Hunger Center maintains partnerships with Carnegie Mellon University's Heinz College and the University of Virginia's Frank Batten School of Leadership and Public Policy
Membership in a dynamic learning community of fellows
Connection to an extensive network of alums, partners, and experts
Experience working with community and policy leaders
Training, mentoring, and leadership development
Project management experience

Academic Levels: Graduating seniors or recent alumni.

Eligibility:

A commitment to ending hunger and poverty in the United States
An ability to adjust and adapt to new situations
A commitment to racial equity and social justice
Demonstrated leadership qualities and skills
An ability to solve problems in creative and innovative ways
Enthusiasm for learning from a wide variety of individuals with expertise in the area anti-hunger/anti-poverty space; and a willingness to search for new models in anti-hunger and anti-poverty work
A lived experience with hunger and poverty
Experience working in low-income communities
Excitement about peer learning in a tightknit community of fellows
Bachelor's degree, or equivalent experience
U.S. citizenship or permanent legal residency

National Deadline: January

An initiative of the National Security Education Program, provide unique funding opportunities for U.S. graduate students to study less commonly taught languages in world regions critical to U.S. interests and underrepresented in study abroad, including Africa, Asia, Central and Eastern Europe, Eurasia, Latin America, and the Middle East. The countries of Western Europe, Canada, Australia, and New Zealand are excluded.

Amount: Up to $25,000 for overseas study. In addition, Boren Fellowships can provide up to $12,000 funding for a domestic language study to supplement the overseas component. However, if Boren Fellowship applicants receive funding for a domestic language program, the maximum combined award is $30,000.

Location: "Non-traditional" destinations (excludes certain countries)

Academic Levels: Graduate students.

Eligibility: Must be a U.S. citizen to apply. Boren Fellowships are granted for a minimum of 12 weeks overseas and a maximum of one year overseas. Either matriculated in or applying to a graduate degree program at a U.S. college or university located within the United States and accredited by an accrediting body recognized by the U.S. Department of Education. Boren Fellows must remain matriculated in their graduate programs for the duration of the fellowship and may not graduate until the fellowship is complete.

View the 2023 Boren Awards Info Session.

Campus Deadline: January

National Deadline: January

Results Announced: Mid/Late April

Boren Undergraduate Scholarship

Boren awards allow U.S. undergraduate students to study less commonly taught languages in world regions critical to U.S. interests, but underrepresented in study abroad. In addition to the traditional study award, Boren also offers the following special initiative programs:

African Flagship Languages Initiative (AFLI) - Boren Scholarship applicants from any U.S. college or university may apply for the African Flagship Languages Initiative (AFLI) to study French, Swahili, Akan/Twi, Wolof, or Zulu in one of four African countries.
Indonesian Flagship Language Initiative (IFLI) - Boren Scholarship applicants from any U.S. college or university may apply for intensive language study of Indonesian and cultural immersion through domestic and overseas language programs.
South Asian Flagship Languages Initiative (SAFLI) - Boren Scholarship applicants from any U.S. college or university may apply for the South Asian Flagship Languages Initiative (SAFLI) to study Hindi or Urdu in India.
Turkish Flagship Language Initiative (TURFLI) - Boren Scholarship applicants from any U.S. college or university may apply for the Turkish Flagship Language Initiative (TURFLI) to study Turkish in Azerbaijan.
Boren-Flagship Initiative - Special opportunities to Boren Scholarship applicants enrolled in The Language Flagship and planning to study overseas for their capstone year.
Boren-ROTC Initiative - A special initiative for undergraduate ROTC cadets and midshipmen. ROTC participants are strong candidates for the Boren Scholarship due to their commitment to national security and government service. Interested ROTC students should also consider applying for Project Go.
Summer STEM Initiative - Funding for summer study abroad to undergraduate students in the Science, Technology, Engineering and Math fields (STEM) up to $8,000.

Amount: Maximum scholarship awards are $8,000 for the summer (STEM only), up to $12,500 for a semester, and up to $25,000 for a full academic year.

Location: "Non-traditional" destinations (excludes certain countries)

Eligibility: Must be a U.S. citizen to apply. Open to all class years, though juniors and senior are not eligible for summer program. In exchange for funding, Boren Scholars commit to working in the federal government for at least one year after graduation.

View the 2023 Boren Awards Info Session.

Campus Deadline: January

National Deadline: January

Results Announced: Mid/Late April

Breakthrough Teaching Fellowship

The Breakthrough teaching fellow experience is designed for undergraduates of all majors and for those who intend to pursue careers in education, as well as those who haven't yet considered it. The opportunity is unlike any other available to undergraduates and our alumni are transformed by the experience. Education coursework is not a prerequisite. We seek applicants with a deep interest in social justice and a passion for working with students.

During the nine-week summer residency, Breakthrough teaching fellows receive over 100 hours of teaching and leadership training, and 75 hours of lead classroom experience.

Benefits: Teaching fellows receive a living stipend. Some sites are able to offer additional financial aid. The site directory includes each site's living expense stipend range, as well as the potential availability of financial aid.

Eligibility: If you are a college student, you are eligible throughout your entire undergraduate career, even if you are graduating the spring or winter before the summer session for which you are applying to teach. Unfortunately, graduate students are not eligible. No citizenship requirements. You will need to have authorization to be an intern in the U.S. (or Hong Kong if you are applying to teach in Hong Kong) by the time the summer program begins.

National Deadline: February

The Capital Fellows Program provides recipients an opportunity to engage in public service and prepare for future careers, while actively contributing to the development and implementation of public policy in California. Capital Fellows are placed at some of the highest levels of California state government and assist state legislators, senior-level executive staff, and court administrators with a broad range of public policy issues and projects and are typically given assignments with a significant amount of responsibility and challenges. Eligible students may apply to one or more of the following sub-fellowships:

Amount: Fellows earn a monthly stipend of $2,627 and receive health, dental and vision benefits.

Location: Sacramento, CA

Eligibility: Open to anyone who will be at least 20 years of age and a graduate from a university or four-year college before the start of the fellowship.

National Deadline: February

Charles B. Rangel Graduate Fellowship

The Rangel Graduate Fellowship is a program that aims to attract and prepare outstanding young people for careers in the Foreign Service of the U.S. Department of State in which they can help formulate, represent and implement U.S. foreign policy. The Rangel Program selects outstanding Rangel Fellows annually in a highly competitive nationwide process and supports them through two years of graduate study, internships, mentoring, and professional development activities. This program encourages the application of members of minority groups historically underrepresented in the Foreign Service, women, and those with financial need. Fellows who successfully complete the program and Foreign Service entry requirements will receive appointments as Foreign Service Officers, one of the most exciting and rewarding careers available.

Amount: Up to $37,500 annually for a two year period for tuition, room, board, books and mandatory fees for completion of two-year master's degrees. This includes up to $21,500 per year for tuition and mandatory fees and an academic year stipend of $16,000. At the conclusion of two years of study, the Rangel Fellow is expected to have obtained a degree in international affairs or another area of relevance to the work of the Foreign Service at a graduate or professional school approved by the Rangel Program.

Location: United States.

Eligibility:

Applicants must be U.S. citizens.
Applicants must be seeking admission to enter graduate school in the following fall for a two-year program at a U.S. university. They can be in the senior year of their undergraduate studies, or they can be college graduates.
Applicants must have a cumulative grade point average of 3.2 or higher on a 4.0 scale at the time of application.

National Deadline: September

Results Announced: December

Chile's English Opens Doors Program

A fee-free Program serving the students, teachers, and school communities of Chile's public education system. EODP volunteers make a lasting impact on the lives of their students, motivating them to improve their English and participate in cross cultural exchange. They are seeking committed volunteer teachers who wish to make a significant impact on the English language level of their students for periods of one to two semesters at a time

Amount: They provide volunteers with a modest stipend which is meant to assist with minor daily expenses like transportation to school or extra classroom materials or activities. Volunteers will need to have access to sufficient funds to support any personal expenditure throughout the duration of the Program. The biggest cost volunteers will incur is their international transportation to and from Chile.

Location: Chile.

Eligibility:

Speak English at a native level
Have a bachelor's degree by the start of the program
Be between the ages of 21 and 35

National Deadline: Varies, March or April for summer start

Results Announced: Varies

CIA Graduate Scholarship Program

The Graduate Scholarship Program is a financial needs based initiative that offers graduate students an unmatched experience in a diverse and inclusive environment. Graduate students, serving as scholarship recipients with the CIA, attend an accredited college/university on a full-time basis and work during summer breaks at the CIA.

Benefits:

Tuition assistance up to $18,000 per calendar year for tuition, mandatory fees and books
Daily allowance for meals and incidentals during summer tours
Reimbursement for transportation costs between school and Washington, DC
Annual salary
Health insurance
Life insurance
Federal retirement plans
Paid time off, as well as sick and holiday leave

Eligibility:

Pursuing a Graduate degree as a full time student and enrolled in, or planning to take, at least 9 credits per semester
Financial need as demonstrated by the gross annual household income ceiling up to $70,000 for a family of four or less, and $80,000 for a family of five or more

If the applicant has not been listed as a dependent for the previous tax year, the gross annual household income ceiling is $35,000 or less

GPA of at least 3.0 on a 4.0 scale
Availability to work at least one 90-day summer tour prior to graduation and willingness to work at CIA full time after graduation

National Deadline: August

CIA Undergraduate Scholarship Program

The Undergraduate Scholarship Program is a financial based initiative that offers undergraduate students an unmatched experience in a diverse and inclusive environment. Undergraduate students, serving as scholarship recipients with the CIA, attend an accredited college/university on a full-time basis and work during summer breaks at the CIA.

Benefits:

Tuition assistance up to $18,000 per calendar year for tuition, mandatory fees and books
Daily allowance for meals and incidentals during summer tours
Reimbursement for transportation costs between school and Washington, DC
Annual salary
Health insurance
Life insurance
Federal retirement plans
Paid time off, as well as sick and holiday leave

Eligibility:

18 years of age by date of application to the scholarship program
Financial need as demonstrated by the gross annual household income ceiling up to $70,000 for a family of four or less, and $80,000 for a family of five or more

If the applicant has not been listed as a dependent for the previous tax year, the gross annual household income ceiling is $35,000 or less

1000 SAT (new official score scale) or 1500 (old score scale); or 21 ACT scores or higher (high school students)
Acceptance at a 4- or 5-year college/university; or pursing an undergraduate degree as a full time student enrolled in, or planning to take, at least 9 credits per semester
GPA of at least 3.0 on a 4.0 scale for high school and/or college
Availability to work at least two 90-day summer tours prior to graduation and willingness to work at CIA full time after graduation

National Deadline: August

The Coro Fellowship in Public Affairs is a nine-month program, throughout which each Fellow participates in a series of full-time projects across a variety of sectors in public affairs, including a final independent project of the Fellow's choosing.

Amount: Stipends, tuition, and payment schedules vary between Coro locations. Visit each Coro center website to learn specifics.

Location: "High-impact urban cities" across the United States, such as Los Angeles, New York, San Francisco, Pittsburgh, and St. Louis.

Eligibility: Senior, graduate student, or alumnus: Open to individuals who have recently completed their undergraduate or graduate degrees, as well as those with several years of work experience.

Key Qualifications: A demonstrated record of community, public service; commitment to diversity; ability to learn in collaborative situations.

External Deadline: January

Results Announced: March

Cultural Vistas selects up to 12 fellows to take part in a multinational professional development program that includes eight-week summer internships in Argentina, Germany, and Hong Kong.

Benefits:

All program-related travel expenses, including round-trip airfare to and within one's internship country; as well as travel to New York City for pre-departure and reentry seminars is covered
Internship placement in Argentina, Germany, or Hong Kong
Accommodations throughout program, including pre-departure and reentry seminars
Virtual learning seminar
Pre-departure support services
Cultural orientation upon arrival in host country
Visa application support (where applicable)
Emergency medical insurance during internship phase

Eligibility:

U.S. citizens enrolled full-time as an undergraduate student at a four-year accredited U.S. college or university
Sophomore or junior academic status at the time of application; preferred minimum GPA of 3.0
Ages 18-30
No formal prior work or study abroad experiences
Prior knowledge of language of host country

This is applicable in Germany and Argentina only

National Deadline: January

The Critical Language Scholarship (CLS) Program is a fully-funded overseas language and cultural immersion program for American undergraduate and graduate students with the goal of broadening the base of Americans studying and mastering critical languages and building relationships between the people of the United States and other countries.

Amount: The CLS Program fully funds the costs of participating in its overseas institutes, including intensive overseas group based language courses, room and board, U.S. academic credit issued through Bryn Mawr College, domestic and international airfare.

Languages: The CLS Program offers instruction in fifteen critical languages:

No Previous Study Required

One Year of Study Required

Eligibility: Open to U.S. citizens only. Must be enrolled in an accredited U.S. undergraduate or graduate degree-granting program which results in a degree. Must be enrolled at your home college or university in the Fall Semester of the application year. Students taking a leave of absence to participate in an organized semester- or year-long study abroad program, or to participate in a substantive internship program, may still be considered eligible. Must be at least 18 years old. Must be able to submit a satisfactory Medical Information Form and Physician's statement and must inform the program of any changes in their health status between submission of these forms and departure in order to participate in the program. Undergraduate students must have completed at least one academic year of study. Must receive a visa in the country of study prior to program entry.

National Deadline: November

Results Announced: March

Contact fellowships@lmu.edu for application support.

Deadline: mid-October

Purpose: to fund study, research, and creative projects in Germany

Amount: monthly stipends 850-1075 euros, health insurance and travel.

Location: Throughout Germany.

Eligibility: current seniors, graduate student or alumni who completed their undergraduate degrees no more than six years ago.

Key Qualifications: Affiliation with program and possible mentors. For humanities and arts degrees and project, good command of German, for other fields, students without language expertise may qualify if language of instruction is English.

The Davis-Putter Scholarship Fund provides grants to students actively working for peace and justice. These need-based scholarships are awarded to those able to do academic work at the university level and who are part of the progressive movement on the campus and in the community.

Amount: The maximum grant is $10,000 and may be considerably smaller depending on the applicant's circumstances and the amount of money available.

Location: Individuals can participate in this program while attending most public institutions. See website for more information.

Eligibility: The Davis-Putter Scholarship Fund aids people active in movements for social and economic justice. These need-based scholarships are awarded to students who are able to do academic work at the college or university level or are enrolled in a trade or technical program and who are active in the progressive movement. Applicants must have participated in activities in the US.

National Deadline: April

Results Announced: July

Donald M. Payne International Development Graduate Fellowship Program

The USAID Donald M. Payne International Development Graduate Fellowship Program seeks to attract outstanding young people who are interested in pursuing careers in the Foreign Service of the U.S. Agency for International Development (USAID). If you want to work on the front lines of some of the most pressing global challenges of our times — poverty, hunger, injustice, disease, environmental degradation, climate change, conflict and violent extremism – the Foreign Service of the U.S. Agency for International Development provides an opportunity to advance U.S. foreign policy interests and reflect the American people's compassion and support of human dignity.

Amount: The Payne Fellowship, which provides up to $93,000 in benefits over two years for graduate school, internships, and professional development activities, provides a unique pathway to the USAID Foreign Service.

Location: United States.

Eligibility:

Applicants must be U.S. citizens.
Applicants must be seeking admission to enter graduate school in the following fall for a two-year program at a U.S. university. They can be in the senior year of their undergraduate studies, or they can be college graduates.
Applicants must have a cumulative grade point average of 3.2 or higher on a 4.0 scale at the time of application.

Key Qualifications: Applicants should carefully review the USAID Foreign Service requirements for medical and security clearances. Participation in the Payne Program is conditional upon successful completion of pre-employment procedures specified by the U.S. Agency for International Development, including background investigations for a security clearance, medical examinations (to include spouse and eligible family members if applicable) and drug tests.

National Deadline: January

Results Announced: March

The Donald Strauss Scholarship awards approximately 14 California college sophomores and juniors who reflect a strong, lifelong commitment to public service and education. LMU students have the opportunity to design a public service project. Projects may be local, domestic, or international in scope. The scholarship will provide you with $15,000 to fund your service project.

Amount: $15,000

Eligibility: Sophomores and juniors

Campus Deadline: February

Results Announced: April

Contact

The Ebell continues to seek out and subsidize academically outstanding students who are residents of Los Angeles County. Awards are based upon character, scholarship, and financial need.

Amount: $5,000 annually.

Eligibility:

United States citizenship. If naturalized citizen, please send a copy of the official documentation
Permanent Resident of Los Angeles County
Full-time Attendance at an accredited Los Angeles County educational institution
Expected post-secondary sophomore status or higher in that educational institution at the beginning of next school year (only undergraduates qualify)
Achievement of at least a 3.25 cumulative GPA
Availability for an in-person interview with Ebell Scholarship Committee on our Ebell campus
Demonstrated community commitment

National Deadline: April

Ford Foundation Predoctoral Fellowship Program

Through its Fellowship Programs, the Ford Foundation seeks to increase the diversity of the nation's college and university faculties by increasing their ethnic and racial diversity, to maximize the educational benefits of diversity, and to increase the number of professors who can and will use diversity as a resource for enriching the education of all students. Predoctoral, Dissertation, and Postdoctoral fellowships will be awarded in a national competition administered by the National Academies of Sciences, Engineering, and Medicine on behalf of the Ford Foundation.

Amount:

Eligibility: Must be a U.S. citizen, national, holder of a Permanent Resident Card, or have deferred action status under the Deferred Action for Childhood Arrivals Program. Competitive applicants will demonstrate commitment to a career in teaching and research at the college or university level.

National Deadline: December

Fulbright UK Summer Institutes

Three-to-four week summer programmes for US undergraduate students. Participants can explore the culture, heritage and history of the UK while experiencing higher education at a UK university.

Amount: The Fulbright UK Summer Institutes covers most costs of participating in the institutes, including US-UK airfare, tuition and fees at the host institution, accommodation (room) and meals.

Location: Around 10 institutes are offered each summer in multiple UK cities.

Eligibility:

Be a US citizen and possess a US passport
Be at least 18 years old by the start of the programme
Participate in the programme in its entirety
Have a minimum GPA of 3.7
Have at least two years of undergraduate study remaining after the Institute finishes (open to current freshmen and sophomores)
Have had little or no study or travel outside of the US

Application Deadline: February

Results Announced: Late April

Contact fellowships@lmu.edu for application support.

The Fulbright U.S. Student Program

Offers research, study, and teaching opportunities in over 140 countries to recent graduates and graduate students. They provide approximately 2,000 grants for individually designed research projects, graduate study, or English Teaching Assistant Programs. During their grants, Fulbrighters will meet, work, live with and learn from the people of the host country, sharing daily experiences. The program facilitates cultural exchange through direct interaction on an individual basis in the classroom, field, home, and in routine tasks, allowing the grantee to gain an appreciation of others' viewpoints and beliefs.

Campus Deadline: August 31

National Deadline: October

Results Announced: March-June

Fund for Education Abroad (FEA) Scholarships

FEA invests in promising students with financial need who wish to study abroad. FEA Scholarship applicants are automatically considered for all available scholarships (general and dedicated) based on answers provided in the application online.

Award: Up to $10,000

Eligibility:

U.S. citizen or permanent resident
Currently enrolled as an undergraduate at a college or university in the U.S. (graduate students are not eligible)
Study abroad program must be eligible for credit at the student's home institution
Study abroad program must be at least 4 weeks (28 days) in country/countries

Preferences: FEA gives preference to students with demonstrated financial need, and strongly encourages students to apply who represent a group that is traditionally underrepresented in education abroad. These groups include, but are not limited to:

First-generation college students
Minority students
Community college students

National Deadline: January

Designed to support U.S.-based undergraduates with demonstrated financial need who are planning to study abroad in East or Southeast Asia. The program's goal is to increase the number of U.S. citizens and permanent residents with first-hand exposure to and understanding of Asia and its peoples and cultures.

Award recipients are required to share their experiences with their home campuses or communities to encourage study abroad by others and fulfill the program's goal of increasing understanding of Asia in the United States.

Amount: Up to $7,000.

Eligibility:

Must be a U.S. citizen or permanent resident at the time of application.
Must currently receive need-based financial aid or demonstrate a verifiable need for financial assistance to participate in the proposed study abroad program. The applicant is required to submit the Estimated Family Contribution (EFC) figure, calculated through FAFSA, with the statement of financial need through the online Freeman-ASIA application.
Must be an undergraduate student with a minimum GPA of 2.8, pursuing his or her first bachelor's degree.
Must apply through the U.S. home campus and have at least one term of enrollment remaining at the home institution in the U.S. upon returning from studying abroad in Asia.
Must have applied or have been accepted to a study abroad based program in: Cambodia, China, Hong Kong, Indonesia, Japan, Korea, Laos, Macao, Malaysia, Mongolia, Philippines, Singapore, Taiwan, Thailand, Vietnam. A multi-country program is eligible only if the applicant will spend at least 8 weeks in one of the countries stated above and will have intensive language study during that period.
Must have applied to or have been accepted by a study abroad based program that awards academic credits through the home campus or other U.S. accredited college or university. The proposed length of study in the host country must be a minimum of 8 weeks for a summer term, 10 weeks for a quarter term, and 12 weeks for a semester term.
Must have little or no previous experience in the country in which he or she plans to study. A summer term applicant must not have spent more than 4 weeks in the proposed country of study within the last 5 years. A semester or an academic year term applicant must not have spent more than 6 weeks in the proposed country of study within the last 5 years.
Must submit the online Freeman-ASIA Student Impact Survey within one month of returning to the United States and must initiate his/her service project to promote study abroad opportunities in Asia on the college campus and/or in the local community.
Must submit the Freeman-ASIA Final Service Report on the implementation of his/her service project at the end of the term following his/her return to the United States.
Must not be a previous Freeman-ASIA award recipient.

Campus Deadline: Varies, depending on travel dates. Late-September for spring and the summer early application deadline. Late-February for summer, fall, or academic year travel. Contact ONIF for more information.

National Deadline: Varies, depending on travel dates. October for spring. March/April for summer, fall, or academic year travel.

Gaither Junior Fellows Program

12-14 one year fellowships to graduating seniors and recent graduates to work as research assistants to the endowment's senior associates. The Carnegie Endowment for International Peace is a global network of policy research centers that aims to advance the cause of peace through analysis and development of fresh policy ideas and direct engagement and collaboration with decision makers in government, business, and civil society. Research centers are located in Russia, China, Europe, the Middle East, and the United States. Past research projects have studied nuclear policy, energy and climate, economics in Asia, Middle East Studies, and Russian and Eurasian studies. Junior fellows are placed in different research centers depending on the program's research. They work alongside Carnegie Endowment program scholars, conducting research for books, meeting with high-level officials, and potentially co-authoring journal articles. Positions are paid, full-time positions for one year. Junior fellows receive a monthly salary of $3,750 (yearly total of $45,000) and a full benefits package.

Eligibility and Qualifications

To be considered for a Gaither Junior Fellowship, applicants must:

either be graduating seniors or have graduated during the past academic year
not have begun graduate studies (exceptions include students who have completed a joint bachelor's/master's degree program)
be U.S. citizens OR attend a university within the United States
be eligible to work for ten to twelve months (start date Septebmer 1)

Additional requirements, like foreign language skills and specific field backgrounds, vary with the needs of each project.

Application Procedure and Selection Criteria

Applications are available through the designated university nominating officials. The application is not available online, but completed applications are sent electronically by the university nominating official. Interested students must contact Lindsay Anderson to request an application packet. All application materials must be submitted to ONIF by LMU's campus deadline.

Applicants may apply to only one program. The application requires:

1-2 page resume/C.V.
1 page personal statement
3 page project assignment essay (see bulletin)
Unofficial transcripts
2 letters of recommendation

Campus Deadline: December 1, 2023

National Deadline: January 15, or following Monday if that date falls on a weekend

Results Announced: March/April

Recording of 2022 Campus Info Session

Gates Cambridge Scholarships are awarded to outstanding applicants from countries outside the UK to pursue full-time postgraduate degrees in any subject available at the University of Cambridge. Gates-Cambridge Scholarships apply to the following programs: PhD (three-year research-only degree), MSc or MLitt (two-year research-only degree), One-year postgraduate course (e.g. MPhil, LLM, MASt, Diploma, MBA).

Amount: Award amount varies by participant to compensate for the University Composition Fee, student allowance, one economy single airfare at both the beginning and end of the course, and inbound visa costs & associated NHS surcharge costs.

Location: University of Cambridge, UK

Eligibility: Must be a citizen of any country outside the United Kingdom.

Campus Deadline: August 31

National Deadline: October for U.S. citizens, December for international students.

Results Announced: February

Benjamin A. Gilman Undergraduate Scholarship

The Gilman Scholarship Program broadens the student population that studies and interns abroad by supporting undergraduates who might not otherwise participate due to financial constraints. The program aims to encourage students to study and intern in a diverse array of countries and world regions. The program also encourages students to study languages, especially critical need languages (those deemed important to national security). Veterans of military service are encouraged to apply, and preference is given to veterans when other factors are equivalent. By supporting undergraduate students who have high financial need, the program has been successful in supporting students who have been historically underrepresented in education abroad, including but not limited to first-generation college students, students in STEM fields, ethnic minority students, students with disabilities, students attending HBCUs or other minority-serving institutions, students attending community colleges, and students coming from U.S. states with less study abroad participation.).

Amount: Up to $5,000.

Eligibility: Must be a U.S. citizen to apply. Open to all class years. Must be receiving a Federal Pell Grant or provide proof that he/she will be receiving a Pell Grant during the term of his/her study abroad program or internship.

National Deadline: Varies, depending on travel dates. October for spring and the summer early application deadline. March for summer, fall, or academic year travel.

GrubStreet's Teaching Fellowship for Black Writers

Provides financial and professional development support to two self-identified Black writers interested in teaching classes, participating in events, and working with our instructors and staff to deepen our curriculum. In time, the program aims to offer sustainable support to Black Writers and create a cohort of fellows who have direct access to GrubStreet resources, classes, and events. We also hope the fellows can influence GrubStreet's pedagogy and cultural vision based on their experience and feedback.

Benefits:

Compensation of $20,000
Artistic mentorship
Access to the GrubStreet community and the Muse and the Marketplace conference

Academic Levels: Undergraduate, graduate, and alumni.

Eligibility: Open to writers who self-identify as Black, are 18 or older, are able to work with both adult and teen audiences, and have a passion for expansive pedagogy, curriculum development, and professional growth.

National Deadline: May

The Hertog Foundation offers several highly competitive and selective educational programs for outstanding individuals who seek to influence the intellectual, civic, and political life of the United States. We offer programs in three main areas: Political Thought & Philosophy; War & Foreign Affairs; and Economics & Domestic Policy. Our programs include summer fellowships for college undergraduates and recent graduates, as well as short-term seminars in Washington, DC and New York City.

Benefits: Stipend ($500-$2000) and housing.

Academic Levels: Undergraduate or recent graduate.

Eligibility: Any college or university undergraduate, or very recent graduate. Applicants are not required to be U.S. citizens, nor are they required to have studied in the U.S. International applicants should be highly proficient in the English language, and all application materials, including essays and academic writing samples, must be submitted in English.

Selection: A typical competitive applicant will have:

An undergraduate GPA => 3.5
Strong letter(s) of recommendation from a professor or another individual who is in a position to comment on the applicant's academic or professional qualifications
A statement of purpose which tells us why the applicant is interested in pursuing study with the Hertog Foundation and how it fits into their aspirations and plans for the future. The personal statement is very important, and deserves careful attention.
An academic writing sample that demonstrates the applicant's powers of analysis and independent thought, and not only their ability to do scholarly research or comment on a text.

National Deadline: Varies, depending on program. January for weekend programs and February for summer.

HSF empowers families with the knowledge and resources to successfully complete a higher education while providing scholarships and support services to as many exceptional students as possible.

Benefits: Awards are based on merit; amounts range from $500 to $5,000, based on relative need, among the Scholars selected.

Academic Levels: Undergraduate or graduate students

Eligibility:

Must be of Hispanic Heritage
Minimum of 2.5 GPA on a 4.0 scale (or equivalent) for College and Graduate Students
Plan to enroll Full-Time in an accredited, not-for-profit, 4-year university, or graduate school, during the FALL of a scholarship cycle (year)
U.S. Citizen, Permanent Legal Resident, DACA or Eligible Non-Citizen (as defined by FAFSA)
Complete FAFSA or state based financial aid application (if applicable)

National Deadline: March

Intensive and demanding, the Humanity in Action Fellowship brings together international groups of college students and recent graduates to explore national histories of discrimination and resistance—including the political foundations of racial hierarchies, Anti-Semitism, Islamophobia and colonial domination—as they affect different minority groups today. The Fellowship seeks to educate, connect and inspire the world's future leaders in the fields of human rights and social justice.

Each program is highly interdisciplinary and features daily lectures and discussions with renowned academics, journalists, politicians and activists, as well as site visits to government agencies, non-profit and community organizations, museums and memorials. The programs seek to highlight different models of action to remedy injustice.

Where: Amsterdam, Atlanta, Berlin, Copenhagen, Detroit, Sarajevo or Warsaw. Applicants may apply to both the Humanity in Action Fellowship programs in Europe and the United States through a single application. However, they cannot choose their city of participation.

Benefits: HiA covers the costs of participation and accommodation during the fellowship programs. However, all Fellows will be responsible for financing the cost of round-trip airfare to their program city. HiA will cover this cost for Fellows with documented need.

Although Fellows receive modest stipend for meals, they should also plan to bring spending money of approximately $750 for food and social activities during the fellowship program.

Eligibility: Currently enrolled sophomores, juniors and seniors; or recent graduates (less than two years after undergrad).

National Deadline: January

Joseph A. O'Hare, S.J., Postgraduate Media Fellowship

Supports the next generation of content producers for the Catholic media and other forms of professional journalism. The fellowship offers three recent graduates the opportunity to develop their media skills and professional relationships while living and working in the capital of global communications, New York City. O'Hare fellows spend one full year working at the offices of America Media, where they will generate content for America's multiple platforms: print, web, digital, social media and events.

Benefits: O'Hare fellows receive housing at Fordham University's Lincoln Center Campus, health care coverage and a monthly stipend for living expenses during the 11 months of the program.

Academic Levels: Undergraduate.

Eligibility:

Graduating seniors from Jesuit universities
Applicants must have a cumulative undergraduate grade point average of 3.0 or equivalent.
Applicants must be citizens or permanent residents of the United States or Canada.
Applicants should be familiar with the Roman Catholic tradition and have some appreciation for the role of the Catholic media in the United States and Canada.
Applicants must be willing to make a 11-month commitment to the program.

National Deadline: November

Kathryn Davis Fellowships for Peace

Deadline: January

Purpose: to encourage study of "lesser taught" and strategically important languages: Arabic, Chinese, Japanese, Hebrew, Russian, and Portuguese.

Amount: completely covers intensive summer language institute

Location: Middlebury, Vermont

Eligibility: All undergraduates, graduate students, and alumni.

Key Qualifications: Interest in peace and security studies, politics, economics, or conflict resolution.

Knight Hennessy Scholars will receive full funding to pursue any graduate degree at Stanford. This includes the JD, MA, MBA, MD, MFA, MS, and PhD programs, as well as all joint- and dual-degrees. In addition to pursuing your graduate studies, shape your own experience as a Knight-Hennessy Scholar through the King Global Leadership Program. As a Knight-Hennessy Scholar, you will develop both the depth and range of subject expertise to confront the numerous grand challenges and opportunities of the future. You will be part of a unique community of change agents from a diverse range of backgrounds.

Eligibility:

Citizens of all countries are welcome to apply. You are eligible to apply to Knight-Hennessy Scholars if you apply during your final year of study for your first/bachelor's degree or within four years of earning your first/bachelor's degree. You must also meet the admission requirements of your intended Stanford graduate or professional degree program.*

Resources:

Recording of 2022 Knight Hennessy Info Session, 2018 Knight Hennessy Scholars Program Webinar Slides

Contact fellowships@lmu.edu for application support.

*Undocumented students should verify eligibility/admission requirements for the graduate program of interest at Stanford.

Marshall Scholarship

The Marshall Scholarship provides up to 41 Scholars the opportunity to study at the graduate level at a UK institution in any field of study.

Amount: Award amount varies by participant to compensate university fees, cost of living expenses, annual book grant, thesis grant, research and daily travel grants, fares to and from the United States and, a contribution towards the support of a dependent spouse (if applicable).

Location: United Kingdom.

Eligibility: Must be a United States citizen who has received an undergraduate degree with a minimum GPA of 3.7. Persons already studying for or holding a British degree or degree-equivalent qualification are not eligible to apply for a Marshall Scholarship.

Campus Deadline: August 31

National Deadline: October

Results Announced: December

Mickey Leland International Hunger Fellowship

A two-year opportunity to promote global food and nutrition security through learning and hands-on work. Leland Fellows gain experience and professional skills working with host organizations in development or humanitarian placements around the world, and learn to see what works in international development—and what doesn't—and how to make the system more efficient, more effective, and more just. Each class of Leland Fellows forms a learning cohort, sharing knowledge and insight and growing together throughout the two year program. And the Hunger Center's dynamic leadership development curriculum centers the skills required to create change in the international development and humanitarian sectors. Leland Fellows are placed with host organizations—international and local NGOs, multi-lateral organizations, private sector entities, or U.N. Agencies—making substantive contributions to both program and policy initiatives.

Benefits:

The Hunger Center establishes its financial packages for fellows based on their location, taking into consideration the cost of living at both the field and policy placements.
Examples of past packages include:

Washington, D.C.: $51,000/year
Lilongwe, Malawi: $30,500/year
Hanoi, Vietnam: $30,000/year
Huehuetenango, Guatemala: $27,500/ year.

The fellowship also includes travel and accommodation during in-person trainings and travel to your placement locations

Academic Levels: Graduating seniors, graduate students, or recent alumni.

Eligibility:

U.S. citizenship or permanent legal residency

National Deadline: January

Mitchell Scholarship

The Mitchell Scholarship funds up to twelve students for one academic year of postgraduate study in any discipline offered by institutions of higher learning in Ireland and Northern Ireland.

Amount: Award amount varies by participant to provide tuition, housing, a cash stipend for living expenses, and a travel stipend.

Location: Ireland.

Eligibility: Must be a U.S. citizen between 18 and 29 years of age as of September 30 of the application year. Applicants need to have obtained a bachelor's degree prior to study as a Mitchell Scholar.

Campus Deadline: August 31

National Deadline: Late September

Results Announced: Late November

Authorized by the US Congress in 1992 to honor Congressman Morris King Udall and his legacy of public service. The Morris K. Udall Foundation awards up to fifty scholarships of $7,000 and fifty honorable mentions to sophomores and juniors committed to careers related to the environment, tribal public policy, or Native American health care. The Udall Foundation seeks future leaders across a wide spectrum of environmental fields, and future Native American and Alaska Native leaders in Native American health care and tribal public policy. Each scholarship covers expenses for tuition, fees, books, and room and board, up to a maximum of $7,000. Scholarship recipients are eligible for one year of scholarship support. Scholars selected during their sophomore year may be re-nominated during their junior year.

Eligibility and Qualifications

Applicants must be US citizens, US nationals, or resident aliens
Applicants must be sophomores or juniors
Applicants should have a recommended minimum GPA of at least a "B" or the equivalent
Applicants must intend to pursue a career in environmental public policy OR be a Native American or Alaska Native student interested in a career related to health care and tribal public policy

Application Procedures and Selection Criteria

Students apply through the Office of National & International Fellowships. The application includes:

A 12-question application;
An 800-word essay on how the core values of civility, integrity, and consensus resonate with you today and how you exemplify at least one of these values in your personal and professional life.;
Transcripts for all college coursework; and
Three letters of recommendation that speak to your leadership, public service, and academic achievements.

Additional documentation is required for applicants in tribal public policy and health care, and for U.S. permanent residents.

Scholars are selected based upon the following criteria:

Demonstrated commitment to environmental or natural resource issues; OR demonstrated commitment to tribal public policy; OR demonstrated commitment to Native American health care. Commitment is demonstrated through substantial contributions to and participation in one or more of the following: campus activities, research, tribal involvement, community or public service.
Course of study and proposed career likely to lead to position where nominee can make significant contributions to the shaping of either environmental, or tribal public policy, or Native American health care issues, whether through scientific advances, public or political service, or community action.
Leadership, character, desire to make a difference, general well-roundedness.

How to Apply

Step 1: Determine if the Udall Scholarship is right for you. Review About the Scholarship and Who Should Apply pages.

Step 2: Contact ONIF. Only ONIF can give you access to the online application.

Step 3: Review the sample application. The Udall Scholarship is a highly competitive award; start now so that you can prepare the best application possible. Work closely with your faculty rep as you revise your application.

Step 4: Request your letters of recommendation and transcripts. Visit our FAQs to learn more.

Step 5: Revise, revise, revise. Visit Advice and Guidance for additional information.

Review the PowerPoint slides from the 2023 Udall Scholarship Info Session

Campus Deadline: February 2022

National Deadline: March 2022

Results Announced: April

Contact

Office of National & International Fellowships (ONIF)
fellowships@lmu.edu
310.338.3792

Mount Vernon Leadership Fellows Program

The Mount Vernon Leadership Fellows Program is a highly selective six week summer institute for rising college juniors offering unparalleled learning and networking opportunities at the home of America's first president just outside our nation's capital

Benefits: An all-inclusive six week program that provides housing, transportation, meals and a $3000 stipend.

Eligibility:

Currently enrolled college sophomore in good standing
Proven leadership ability and involvement
All majors welcome
Demonstrated interest in proposed capstone project
Cumulative GPA of 3.4 or higher
Current U.S. Citizen

National Deadline: January

Paul and Daisy Soros Scholarship for New Americans

The Paul & Daisy Soros Fellowships for New Americans supports thirty New Americans, immigrants or the children of immigrants, who are pursuing graduate school in the United States.

Benefits: Each award is for up to $25,000 in stipend support, as well as 50 percent of required tuition and fees, up to $20,000 per year, for one to two years.

Eligibility:

1. NEW AMERICAN STATUS​​

The Paul & Daisy Soros Fellowships for New Americans is a fellowship program intended for United States immigrants and children of immigrants. To be eligible, an applicant's birth parents must have both been born outside of the US as non-US citizens, and both parents must not have been eligible for US citizenship at the time of their births. In addition, one of the following must be true of the applicant as of the November 1, 2017 application deadline:

Born in the US:

You are a US citizen by birth and both of your parents were born abroad as non-US citizens.

Naturalized Citizen:

You have been naturalized as a US citizen either on your own or as a minor child under the application of one of your parents.

Green Card

: You are in possession of a valid green card.

Adopted:

You were born outside of the US or one of its territories and were subsequently adopted by American parents, and were awarded US citizenship as a result of your adoption.

DACA:

You have been granted deferred action under the government's Deferred Action for Childhood Arrivals program and your status is currently active.

2. ACADEMIC STANDING

The Paul & Daisy Soros Fellowships for New Americans is a fellowship program intended for immigrants and children of immigrants who are pursuing full time graduate degrees at United States institutions. Eligible applicants will have a bachelor's degree as of the fall of 2018, and may be applying to graduate school as they are applying to the fellowship, or they may already be enrolled in the graduate program that they are seeking funding for as of the application deadline. The fellowship program is open to all fields of study and fully accredited fulltime graduate degree programs. In order to be eligible for the 2018 fellowship, an applicant should be planning to be enrolled full time in an eligible graduate degree program at a US university for the full 2018-19 academic year. Eligible applicants must not have begun the third year of the program that they are seeking funding for as of the November 1, 2017 deadline. Applicants who have a previous graduate degree or who are in a joint-degree program are eligible.

Ineligible programs: Online programs, executive graduate programs, joint bachelors/master's programs, certificate programs, post-baccalaureate programs, graduate programs that are not in the United States, and graduate programs that are not fully accredited.

3. AGE

The Paul & Daisy Soros Fellowships for New Americans is a fellowship program intended for students who are early in their careers. All students must be 30 or younger as of the application deadline.

National Deadline: November

Point Foundation empowers promising lesbian, gay, bisexual transgender, and queer students to achieve their full academic and leadership potential - despite the obstacles often put before them - to make a significant impact on society.

Amount: Up to $10,000

Eligibility:

Must be enrolled or intending to enroll at an accredited college or university based in the United States, including Hawaii and Alaska. Students enrolled or intending to enroll in a college or university in a United States territory are NOT eligible.
Must be "out" as a person who identifies as a member of the LGBTQ community.
Must be enrolled full-time for the full academic year.
Must be enrolled in a degree-granting undergraduate or graduate/ doctoral program. Post-doctoral research programs are not eligible.

National Deadline: January

Results Announced: March

Public Policy & International Affairs Fellowship Program (PPIA) Junior Summer Institutes

The PPIA program prepares junior-level undergraduates to be competitive candidates for top degree programs in the fields of public policy, public administration or international affairs through participation in a Junior Summer Institute (JSI). JSI is an intensive, 7-week, academic program during the summer at a designated host campus.

Once a student has successfully completed their JSI, they join an alumni network of nearly 4,000 leaders. In addition to the opportunities that this network provides for mentoring and career development, our alumni network has the opportunity to receive financial support for their graduate school education if they attend one of the programs in the PPIA Graduate School Consortium.

Amount:

Full tuition at a PPIA Junior Summer Institute.
Eligibility to receive assistance with travel expenses.
A stipend of up to $1,500 (funding determined by each JSI).
University housing with a meal plan.
Books and related course materials at your JSI.
Each JSI may offer additional benefits, such as GRE preparation, at their discretion. Please check with each JSI about any additional benefits.
Minimum of a one-time $5,000 scholarship at a PPIA graduate school if admitted for a Master's degree. PPIA Fellows often receive financial offers above and beyond this minimum from their graduate program.
Fee waiver when applying to schools that are members of the PPIA Graduate School Consortium.

Eligibility:

If you are a United States citizen or legal permanent resident you are eligible to apply to all JSI programs.

International students,

who are currently studying at U.S. institutions are eligible to apply, and may be accepted to study at select U.S. institutions.
Junior-level standing at the time of applying.
Must not have attained a Bachelor's Degree before start of Junior Summer Institute.
Must be committed to completing a Master's Degree in public and/or international affairs at one of the PPIA Consortium graduate schools.
Must demonstrate an interest in pursuing a professional career associated with public services such as government, nonprofits, humanitarian and international organizations and other related programs.
Must be interested in contributing to the diversity of perspectives present in the PPIA Fellowship Program.
Economic need is considered during the review of applications.
All academic majors are welcome to apply!

National Deadline: November

Princeton in Africa Fellowship

Princeton in Africa matches talented and passionate college graduates with organizations working across Africa for yearlong service placements.

Amount:

On-the-ground expenses including housing and living stipend.
Medical insurance, medical evacuation insurance and security evacuation insurance
Pre-departure orientation for all Fellows.
Mid-year retreat in Africa (including partial travel grant for travel to/from the retreat).

There is a $50 application fee and a $150 placement fee. Fellows are expected to cover their own airfare to/from the placement country and visa application fees.

Location: Africa

Eligibility: Young alumni and graduating seniors from any college or university accredited in the United States are eligible to apply. Prior experience in Africa is not a prerequisite.

National Deadline: October

Results Announced: February-May

PiA sponsors over 150 fellowships and internships in 20 countries and is the oldest and largest organization of its kind, unique in its scope, size, century-long expertise and emphasis on service.

Amount:

A local stipend, paid directly by the host organization.
An orientation program including travel, health, visa, and packing information as well as cultural and current affairs background on fellowship locations.
Travel medical and emergency evacuation insurance for all Fellows in need of coverage and who qualify for PiA's international travel plan.
Language grants (awarded selectively).
Assistance in student loan deferments in the form of letters issued to student loan agencies.

There is a $60 application fee and a $550 placement fee. Fellows are expected to cover their own airfare to/from the placement country and visa application fees.

Location: Asia

Eligibility: PiA applicants are generally college seniors or recent graduates.

All applicants MUST be able to attend one of our interview sessions in January. Interviews will be located at Princeton University as well as in select cities on the East Coast, Midwest, and West Coast. Applicants who are based outside of the continental U.S. are eligible for interviews via Skype.

National Deadline: November

Results Announced: Mid March

Princeton in Latin America Fellowship

PiLA matches partner organizations engaged in socially responsible development projects in Latin America and the Caribbean with highly qualified and motivated recent college graduates who are interested in year-long service fellowships throughout the region.

Amount:

Housing, utilities, food, local work-related transport, and personal essentials. Fellows should expect to live modestly in local terms.

Fellows generally cover or find outside help to cover airfare and mandatory overseas insurance.

Location: Latin America

Eligibility: Application is open to all graduating seniors and young alumni of North American universities who are U.S. citizens or permanent residents. International (not U.S. citizens or permanent residents) applicants who are graduates of North American universities should contact PiLA at applications@pila-princeton.org for more information about eligibility. Limited opportunities are available to international students.

National Deadline: November

Results Announced: February

Rhodes Scholars receive full funding to pursue any graduate degree at Oxford University. Scholars are chosen not only for their outstanding scholarly achievements, but for their character, commitment to others and to the common good, and for their potential for leadership in whatever domains their careers may lead.

Amount: Varies.

Location: Oxford University in the United Kingdom

Eligibility: No citizenship requirements. However, non-U.S. citizens may have an earlier application deadline and should consult the website for more info. Must be at least 18 but not yet 24 years of age. To be considered, an applicant must be on track to receive a bachelor's degree before October of the application year.

Campus Deadline: August 31

National Deadline: August for non-U.S. citizens; October for U.S. citizens, permanent residents, and DACA students.

Results Announced: Late November

Scholarship America Dream Award

The Dream Award is Scholarship America's renewable scholarship program for financially needy students who have overcome barriers and have successfully started their college education. Awards were made to students selected from across the nation who are entering their second year or higher of education beyond high school; the scholarships are both renewable and increase in amount each year.

Amount: Scholarship America provides Dream Awards ranging from $5,000 to $15,000 based on the individual student's financial need. Each student's award will increase by $1,000 each year to help them successfully finish school and earn their degrees.

Eligibility:

Be at least 17 years of age.
Be U.S. citizens, U.S. permanent residents (holders of a Permanent Resident card), or individuals granted deferred action status under the Deferred Action for Childhood Arrivals program (DACA).
Have received a high school diploma or the equivalent from a U.S. school.
Have completed or expect to successfully complete a minimum of one full year of postsecondary education by June of the award year.
Plan to enroll in full-time undergraduate study at the sophomore year level or higher at an accredited two- or four-year college, university or vocational-technical school in the United States for the following academic year.
Be studying to obtain an associate's or first bachelor's degree.
Have a minimum cumulative grade point average of 3.0 on a 4.0 scale (or its equivalent).
Demonstrate financial need.

National Deadline: April

Results Announced: July

Designed to prepare the next generation of global leaders, Schwarzman Scholars is the first scholarship created to respond to the geopolitical landscape of the 21st Century. Whether in politics, business or science, the success of future leaders around the world will depend upon an understanding of China's role in global trends.

With the inaugural class enrolled in 2016, the program gives the world's best and brightest students the opportunity to develop their leadership skills and professional networks through a one-year Master's Degree at Tsinghua University in Beijing – one of China's most prestigious universities.

Students live and study together on the campus of Schwarzman College, a newly-built, state-of-the-art facility, where all classes are taught in English. Students pursue a Masters in Global Affairs, with concentrations in one of the disciplines:

Public Policy
Economics and Business
International Studies

Students spend a year immersed in an international community of thinkers, innovators and senior leaders in business, politics and society. In an environment of intellectual engagement, professional development and cultural exchange, they learn from one another and pursue their academic disciplines while building their leadership capacities. This experience will expand students' understanding of the world and create a growing network of global leaders for the future.

Benefits:

Tuition Fees
Room and board
Travel to and from Beijing at the beginning and end of the academic year
An in-country study tour
Required course books and supplies
Lenovo laptop and smartphone
Health insurance
A personal stipend of $3,500

Eligibility:

Undergraduate degree or first degree from an accredited college or university or its equivalent
Candidates must be at least 18 but not yet 29 years of age as of August 1 of the application year
English language proficiency

National Deadline: Early September

Results Announced: December

Thomas R. Pickering Fellowship Program

The Thomas R. Pickering Fellowship Program provides graduate students with financial support, mentoring and professional development to prepare them academically and professionally for a career with the U.S. Department of State.

Amount: Undergraduate: Up to $37,500 annually for tuition, room and board, books, mandatory fees and some travel expenses for the senior year of undergraduate studies, and first year of a master's degree in fields related to the Foreign Service such as business administration, economics, public policy, international affairs, and other relevant fields.

Graduate: Up to $37,500 annually for tuition, room and board, books, mandatory fees and some travel expenses for a two-year master's degree in fields related to the Foreign Service such as business administration, economics, public policy, international affairs, and other relevant fields.

Location: United States.

Eligibility:

Only individuals who are United States citizens.
Applicants must be seeking admission to a U.S. graduate school
Applicants must have a cumulative grade point average of 3.2 or higher on a 4.0 scale at the time of application and this grade point average must be maintained throughout participation in the program.
Applicants must enroll in a two-year, full-time master's degree program, at U.S. based graduate institutions only, in an academic field relevant to the work of the Foreign Service (public policy, international affairs, public administration, business, economics, political science, sociology, or foreign languages) and be prepared to enter the Foreign Service upon completion of their degree program.
Applicants must be able to attend a June orientation in Washington, D.C. if selected.
Applicants must be available to fulfill the summer internship obligations
Women, members of minority groups historically underrepresented in the Foreign Service, and students with financial need are encouraged to apply.

Key Qualifications: Academic excellence, strong oral communication skills, passion to become a Foreign Service Officer, demonstrated service, leadership, humility, and tenacity.

National Deadline: January

Results Announced: April

The Harry S. Truman Scholarship Foundation - the federal memorial to our thirty-third President - awards merit-based scholarships to college students who plan to pursue careers in government or public service. Truman Scholars receive up to $30,000 for graduate or professional school, participate in leadership development activities, and have special opportunities for internships and employment with the federal government. This is a highly competitive national award. The Truman Scholarship Foundation receives over 600 nominations each year from institutions around the country. In order to prepare the best application possible, candidates should review the information below and work closely with ONIF.

Eligibility and Qualifications

A full-time student pursuing a bachelor's degree with junior-level academic standing; or senior-level standing in his or her third year of college enrollment. Note: Students who are already attending graduate school are not eligible for the Truman Scholarship.
A U.S. citizen (or a U.S. national) or expected to receive citizenship by the date the scholarship will be awarded.
Has an extensive record of public and community service.
Has outstanding leadership potential.
Is committed to a career in government or elsewhere in public service, as defined by the Foundation.
Nominated by the Truman Scholarship Faculty Representative (ONIF) at his, her, or their institution.

Application Procedures and Selection Criteria

Applications are submitted to the Office of National & International Fellowship for a campus deadline before students may be nominated to the national competition. Campus applications must include:

Responses to Questions 1-14, the biographical data, and Summer Institute question.
3 letters of recommendation
Students must also attend a campus committee interview.

Once students participate in a campus committee interview and are selected for nomination to the national competition, they will need to additionally prepare and complete:

Policy Proposal
Transcripts from all institutions attended
1-hour interview with Campus Faculty Representative

LMU's campus nominations are selected on the basis of:

extent and quality of community service and government involvement;
leadership record;
academic performance, writing and analytical skills; and
suitability of the nominee's proposed program of study for a career in public service.

For more information, please schedule an advising appointment with Lindsay Anderson or contact fellowships@lmu.edu.

Campus Deadline: November

Campus Interviews: December

National Deadline: February

Regional Review Panels: March through April

Results Announced: April

Contact

Office of National & International Fellowships (ONIF)
fellowships@lmu.edu
310.338.3792

Yenching Academy of Peking University

The Yenching Academy of Peking University offers a Master's degree in China Studies. This specially designed, English-taught program aims to push the study of China beyond the boundaries of traditionally defined Humanities and Social Sciences disciplines. It creates space to incorporate the diverse backgrounds and experiences of program participants into the study of ancient, modern, and contemporary China, effectively acting as an incubator for innovative approaches to past, present, and future Chinese transformations. At the core of the program lies its emphasis on interdisciplinarity and the value it assigns to thinking about China's development from both Chinese and international perspectives.

Fellowships for international Yenching Scholars are for twelve months, during the course of which they complete their coursework and may complete the thesis. A limited number of financial aid packages are available for those who wish to remain on campus for a second year. Degrees are granted upon the completion of all coursework and satisfactory defense of the thesis, and are awarded in January and July of each year.

Benefits:

Tuition fees
A travel stipend for one round-trip journey between each Scholar's base city and Beijing
Accommodations and living costs on Peking University's campus
Basic medical insurance

Eligibility:

Preference to candidates age 25 or younger as of August 31 of the year they wish to enroll

Evaluation criteria:

Academic merit
Leadership potential
International experience
Long-term aspirations

Campus Info Session: April 26 at 12:30 p.m.,Online

Campus Deadline: November 15

National Deadline: December