Elizabeth Wimberly-Young, M.F.A
Director, McNair Scholars Program & Student Research
University Hall 3022
Elizabeth.Wimberly@lmu.edu
Elizabeth Wimberly-Young's research interests concern exploring methods for incorporating high-impact and engaged learning and increasing inclusive excellence in student research across the disciplines, including humanities and the literary and creative arts. She has been teaching composition, creative writing, literary nonfiction and business writing for over fifteen years. During her twelve years at LMU, she's served as a Lecturer in English and the Core and worked as Academic Affairs Associate for the University Core Curriculum, where she managed the challenges and daily functions of the Core and engaged in collaborative, cross-disciplinary work to help build infrastructure and implement LMU's recently revised curriculum. She's a co-creator of the Rhetorical Arts Festival, a student supported event where Rhetorical Arts students deliver persuasive speeches on social justice, and a collaborator on several university initiatives, including the task force that successfully brought the academic honor society, Phi Beta Kappa, to campus. Her work has appeared in various publications, including storySouth, and was a finalist for Creative Nonfiction's Essays on Animals contest. Elizabeth was the recipient of a Virginia G. Piper Center Independent Travel Grant for work and research at New Light, a care center for the children of sex workers in Kolkata, India. She received her B.A. in Philosophy from Elon University and her M.F.A. in Creative Writing, Fiction from Arizona State University. In addition to her work with the McNair Scholars Program and student research, she currently serves as a Senior Lecturer in BCLA and is a foundation member of the Omega of California Chapter of Phi Beta Kappa at LMU.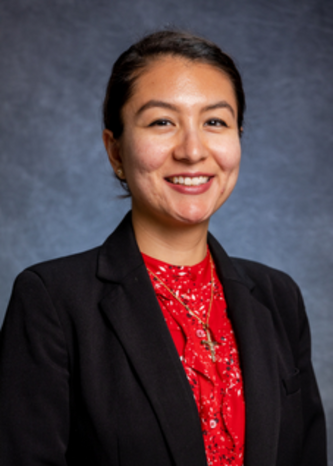 Carina Flores, M.Ed.
Assistant Director, Student Research
University Hall 3019
Carina.Flores@lmu.edu
Carina Flores is a higher education professional with eight years of experience and a master's in educational counseling from the University of Southern California. Her experience in higher education includes creating a peer mentor program, summer bridge, and other resources for the Title III HSI STEM grant at the University of La Verne in order to increase retention of first-generation, underrepresented students in STEM. During her time at the University of La Verne she also taught a values-based course for transfer students as part of the general education requirements. Most recently, she worked at the University of Southern California as assistant director for the Norman Topping Student Aid Fund providing holistic programming to students and overseeing the governing board of the fund. She also co-authored a chapter called "Belonging and Well-being as Key Measures of Student Success." As a first-generation college graduate, Carina is passionate about supporting students in achieving their academic goals. Much of her research and work in higher education has been centered around student success and sense of belonging.