Congratulations on your upcoming milestone. It has been quite a journey, but you've made it!
We would like to take the opportunity to recognize and honor the graduating seniors who had the opportunity to participate in a LMU Study Abroad program during their time at LMU.
To commemorate our graduates and their global experience, we will be providing each graduate with a new and uniquely designed LMU Study Abroad graduation stole.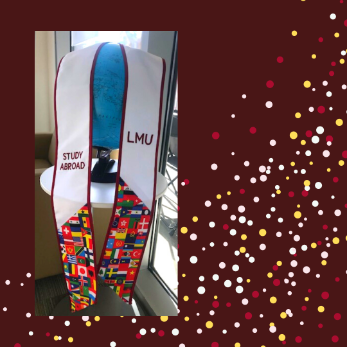 Where to pick-up your stole?
***Information for the 2024 commencement ceremony coming soon***
Come to our office located in VDA 130 from Monday to Friday at 9:00am to 4:00pm.
For graduating seniors who will participate in the commencement ceremony, but are not taking classes on campus in spring 2024, please send an email to studyabnroad@lmu.edu to inquire about shipping options.
We have a limited number of sashes available for May 2024 graduates, so they will be provided on a first-come, first-served basis.
Congratulations again and we hope your journeys abroad continue for years to come!