ONIF Student Spotlight
February 28, 2020
Name: Carlos Mesa-Baron
Major: International Relations
Minor: Economics
Graduation Year: 2019
Fellowship Award: Fulbright-García Robles Scholar Binational Business Program. Grantees are placed in cooperating businesses or NGOs, and also take courses related to international business at Instituto Tecnológico Autónomo de México (ITAM).
What are your current or future career plans? After my time here I would like to stay a while longer, learning more regarding how business is conducted in Mexico. I would like to specialize in economic development along the Western Hemisphere. Opportunities that allow me to learn about trade, internationalization, and international business with Latin American countries are my future career plans.
What have you enjoyed most about the program? I have heavily enjoyed embracing a new culture and learning how to thrive in a new context. ITAM is an excellent university with prominent professors that have enlarged my understanding on the true nature of business and its purpose. What I have I most enjoyed though is volunteering for the wonderful foundation Maria Luisa de Moreno International. I have been able to help others through this excellent foundation serving vulnerable children and the elderly through events exclusively dedicated to them receiving support, gifts, solidarity, and experiences that grant them happiness, quality of life, and human development; because at MLMIF, to help others is our job.
What is/was the most challenging aspect of the program? I would have to say the mobility of the city. There can be a lot of traffic and the metro is quite difficult to use comfortably.
What advice do you have for future applicants? Be true to yourself and ask yourself why you truly want to come to Mexico. If it is for self-benefit in your career, or if it is to try to help a foreign nation somehow during your time there, or maybe both. I would say this experience is for those who would like to partake in a career of working with the US and Latin America.
What would people be surprised to know about you? I was born in Medellin, Colombia, but I grew up in the United States.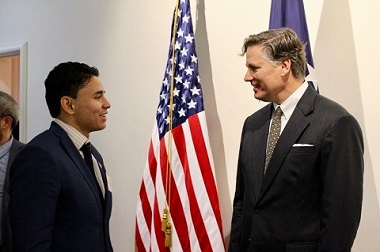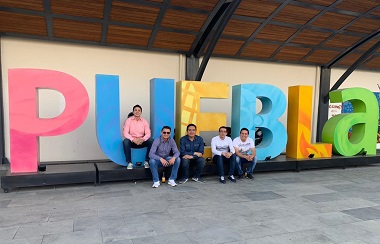 From left to right: Meeting the ambassador of the United States to México, Christopher Landau, at a Fulbright dinner. Visiting Puebla with the brothers Carlos made in México.
----------------
The Fulbright Binational Internship Program in Mexico places grantees in cooperating businesses or NGOs, and take courses related to international business at Instituto Tecnológico Autónomo de México (ITAM). For more information, visit https://us.fulbrightonline.org/countries/selectedprogram/105 or contact ONIF.