ONIF Student Spotlight
October 1, 2021
Name: Faith Nishimura
Pronouns: She/her/hers
Degree: Marketing (M-SCHOOL)
Graduation Date: May 2023
Fellowship Award: In the UCLA Dream Summer Fellowship Program, immigrant youth and allies partake in leadership and professional development training and work with a social justice-based host organization to incorporate and strengthen the role of immigrant rights issues alongside the organization's social justice work.
What are your current or future career plans? As an aspiring Marketer for Good, I hope to work at the intersection of activism and storytelling. Foundational to my career is the belief that "marketing is the most powerful force available for people who want to make change." I want to uplift minority stories and mobilize people into action with the stories I tell, leveraging my marketing, public speaking, and writing skills to create a better world.
What did you enjoy most about the program? This fellowship has allowed me to learn so much about the undocumented community and the labor movement. A majority of the fellows in my cohort were undocumented. Their stories of struggle, continued perseverance, and triumph have inspired me to become a better ally. Before this program, I knew very little about labor unions. I have since met countless labor activists and workers, learning about power-analysis in organizing and value-framing in effective communication.
What was the most challenging aspect of the program? Adjusting to 40 hours a week without any prior full-time work experience and staring at a computer screen for that long was quite challenging. However, working remotely created more flexibility in taking breaks and managing my personal life.
How has Covid-19 impacted your experience? Dream Summer 2021 was entirely virtual. Pre-pandemic, my work with Service Employees International Union would've been in-person. Despite most of my virtual work this summer, I was able to attend in-person actions in Downtown Los Angeles. In addition, some of my work centered around Covid-19. For instance, I designed a presentation on vaccination guidelines to inform the union on how vaccine policies will affect workers.
What advice do you have for future applicants? Identify the unique hard skills you have that would make you a valuable candidate and highlight them in your application! A variety of skills are needed by these organizations to move their social justice efforts forward.
What would people be surprised to know about you? I'm continuing my work with Service Employees International Union after the conclusion of the Dream Summer Fellowship, managing the social media platforms for the national Justice for Janitors campaign!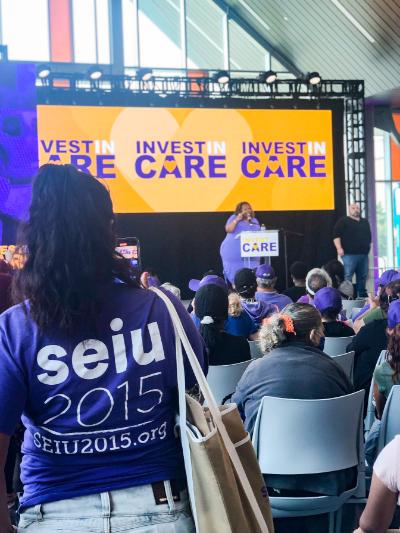 Caption: "I took this photo at an action on July 13th in DTLA. Workers demanded an immediate investment in jobs, care, and justice from Congress."
----------------
Dream Summer is an annual national fellowship of the UCLA Labor Center's Dream Resource Center (DRC). For more information, visit https://www.labor.ucla.edu/what-we-do/dream-resource-center/dream-summer/ or contact ONIF.