ONIF Student Spotlight
April 2, 2021
Name: Will Corvin
Pronouns: He/his/his
Degree: Masters in Urban Education
Graduation Date: August 2019
Fellowship Award: I received a Fulbright English Teaching Award (ETA) to Ourense, Spain. This grant provides funding for me to work as a teaching assistant in a Spanish vocational school. Although I am not exclusively teaching English, all instruction is supposed to be in English.
What are your current or future career plans? Undecided! I have been a teacher in Oakland, California for the past three years and hope to explore some other career opportunities when I return to the United States.
What have you enjoyed most about the program? I have really enjoyed being able to learn about Spain's educational system. I was really interested in vocational pedagogy while I was teaching in Oakland. Working in a vocational school in Spain has given me a lot more insight into what can be done differently in the United States.
What was the most challenging aspect of the program? The biggest challenge has been speaking in Spanish to communicate with my coworkers and students, not to mention the difficulty added to navigating everyday life. I knew a decent amount of Spanish before coming here, but I've learned a lot more out of necessity.
How has Covid-19 impacted your experience? Covid-19 has caused Spain to lockdown. There is a 10 PM curfew in Ourense, restaurants have been closed for most of my time here, and only recently have we been able to travel outside of the city. In the classroom, students are supposed to be socially distanced, windows are open at all times, masking wearing is mandatory, and class sizes are limited.
What advice do you have for future applicants? Ask for help constantly with your application, especially the essays. ONIF is super helpful and offered me a lot of great advice that I would not have gotten in without. Expect to do more drafts of essays than you expect.
What would people be surprised to know about you? I am currently working on publishing a young adult novel!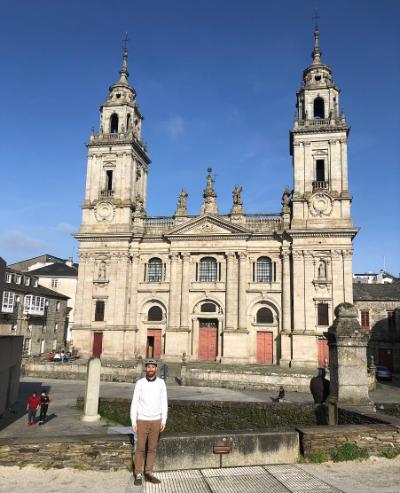 Caption: A picture of Will in front of Saint Mary's Cathedral in Lugo.
----------------
The Fulbright U.S. Student Program offers research, study, and teaching opportunities in over 140 countries to recent graduates and graduate students. For more information, visit https://us.fulbrightonline.org/fulbright-us-student-program or contact ONIF.