ONIF Alumni Spotlight
March 1, 2019
Name: Jesse Jovel
Degree: B.A. in History
Graduation Year: 2012
Fellowship Award: The Fulbright English Teaching Assistant (ETA) Program places Fulbright Scholars in classrooms abroad to provide assistance to local English teachers or give instruction at various levels. The grantee is assigned to a specific university based on the candidate's academic profile and the specific needs of the host institution. Grantees are also required to engage in a social project related to their personal, career, and/or educational interests. Fulbright Scholars also serve as cultural ambassadors. Currently, I am teaching at the School of Languages at la Universidad Pedagogica y Tecnologica de Colombia in Tunja, Colombia.
What are your current or future career plans? After my year in Fulbright Colombia I plan on staying in the field of education. Having taught in high school and the university level, I feel confident in saying that being in education and using it as a vehicle to impact lives has been powerfully fulfilling and work I plan on committing to. I am called to accompany young people who are on a journey of maximizing their gifts in order to create a more just and equitable world.
What have you enjoyed most about the program? Pittacus Lore said it best when they said, "A place is only as good as its people." I've now visited over 12 cities/towns in Colombia and the vibrant warmth I am met with in each place has left a mark impossible to erase. From my students and colleagues at la Universidad Pedagogica y Tecnologica de Colombia (UPTC), to strangers turned friends that I've met on my path; all have contributed to my positive experience. Perhaps what I've enjoyed most of these connections is that I've created bonds without needing to discuss professional status or affiliations, but rather the focus is on experiences we've had. I've been conditioned to start conversations that normally revolve around what someone does for a living or where someone went to college; something that I now avoid inquiring about.
What has been the most challenging part of the program? Having lived so many beautiful moments and not being able to experience them with loved ones has been tricky. How do you fully describe seeing an archeological site that is said to be founded around 800 CE? What words do you use to describe what you felt when your students shared with you their dreams but followed it with the painful systemic realities that make those dream feel like just that- dreams? The gratifying moments come when your loved ones acknowledge the positive changes and growth they see because of these new experiences.
What advice do you have for future applicants? For anyone reading this post that has the smallest inkling to work and live abroad I highly recommend letting that desire guide your research process. Waiting for the "aha" moment can have you waiting longer than you need to. Once I began looking at programs, talking to people in them, and researching countries, I was able to envision myself in those spaces. LMU has the resources and connections that make learning about programs and getting connected with people easily attainable.
And once you've been accepted (because LMU Lions are the best!), and are busy packing your life in a suitcase, don't forget to leave room for humility. I've learned that during trying times abroad, it's been my ability to ask for help, usage of a language that isn't native to me, or simply admitting that I do not know, when I have grown the most and have grown closer to those in community around me.
What would people be surprised to know about you? Growing up in a Salvadoran household meant that Spanish was my first language. Surprisingly enough, I rejected the language tirelessly and often refused to speak it. In fact, my mother's rule was that only Spanish could be spoken at the dinner table! Needless to say, I spent many dinners in silence. Despite my rough start with Spanish, the last seven months have allowed me to continue my mastery and appreciation of the language and culture. Thanks, for insisting mom!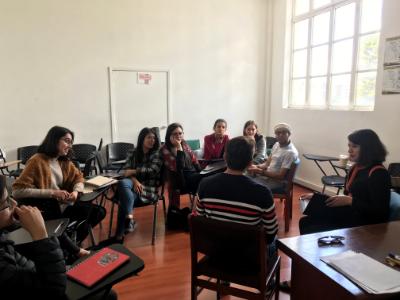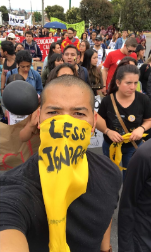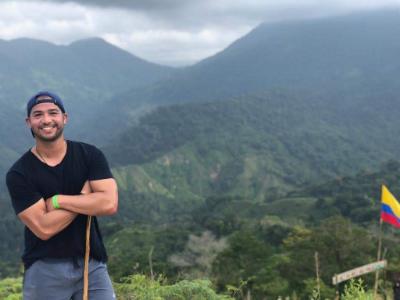 ----------------
The Fulbright U.S. Student Program offers research, study, and teaching opportunities in over 140 countries to recent graduates and graduate students. For more information, visit https://us.fulbrightonline.org/fulbright-us-student-program or contact ONIF.