ONIF Student Spotlight
September 20, 2018
Name: Sharon Nat
Major: Psychology
Graduation Year: 2019
Fellowship Award: 2018 Critical Language Scholarship, Punjabi in Chandigarh, Punjab India
From June to August, I had the opportunity to live with a native Punjabi Sikh host family, study the Punjabi language and immerse into the Punjabi culture at Chandigarh, Punjab India. In the Punjabi program, 12 American students including myself arrived at Washington, DC for a two-day orientation eagerly waiting for our 48-hour plane ride to Chandigarh, Punjab. I knew that spending my summer abroad in Punjab, my experience would be a transformative moment like it did when I first participated with the Punjabi Critical Language Scholarship Program in 2016.
Unlike two years ago, I didn't have to perform charades with native Punjabis who were Sikhs, Hindus, Muslims, and Christian with a diverse background to get my message across. This year I could understand enough and speak enough to pass by as a native Punjabi. The best conversations I had with people was in autorickshaws, Uber drivers and salespeople when they learned that I am Mexican-Punjabi American studying abroad to master a critical language. Their faces glowed with excitement about how Americans are interested in learning about the Punjabi language and culture.
The most memorable moments in Punjab was my daily interaction with buffalos, cows, and various stray dogs roaming around the busy cities and villages. In addition, learning about my lactose intolerance at a country where dairy products are commonly used in majority of traditional Punjabi dishes. Thus, my diet restrictions from vegetarian to veganism became an instant change. Overall, I would like to thank the Critical Language Scholarship for giving me the opportunity to strengthen my Punjabi skills, learn more about the Indian country and become a global citizen.
-Sharon Nat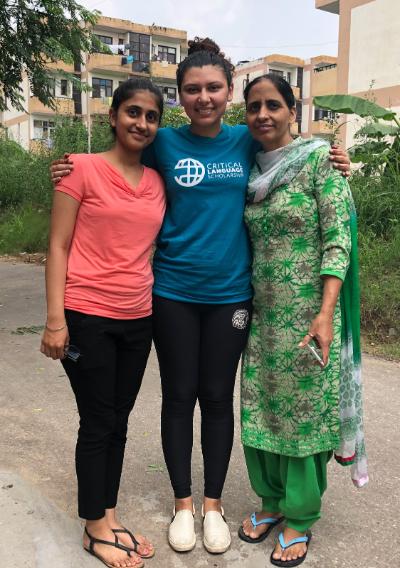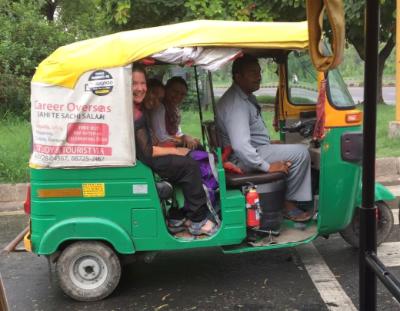 Sharon (center) with her host family. Daily autorickshaw.
----------------
The Critical Language Scholarship (CLS) Program is an intensive overseas language and cultural immersion program for American students enrolled at U.S. colleges and universities. The program includes intensive language instruction and structured cultural enrichment experiences designed to promote rapid language gains. For more information, contact ONIF.