ONIF Student Spotlight
April 15, 2022
Name: Elsie Mares
Pronouns: She/her/hers
Degree: BA Political Science
Graduation Date: May 2021
Fellowship Award: "The Herbert Scoville Jr. Peace Fellowship aims to recruit and train the next generation of policy and advocacy leaders on a range of international peace and security issues. The fellowship ensures a pipeline of the brightest, most dedicated, and diverse next-generation experts into leading think tanks and advocacy groups in order to inspire creative new approaches to the pervasive challenges to peace and security" (from the Scoville website).
What are your current or future career plans? I intend to pursue a life-long career in the policy and advocacy sphere. The Scoville Fellowship has been a tremendous opportunity for career exploration and engagement with the global affairs policy and aid space, which has helped me narrow down my future goals and next steps. I plan to stick around in the advocacy and aid sector for a few more years and then pursue a Masters in Policy or Human Rights and/or a law degree that will enable me to engage in higher level policy influence work.
What have you enjoyed most about the program? What I have enjoyed most is how the strong network, history, and successful track record of the fellowship has translated into high levels of access to the peace and security sector. As a Scoville fellow, I feel that I am able to enter rooms and spaces that felt daunting and inaccessible to me prior to this fellowship as someone with limited connections in DC. It has been such an incredible learning experience and opportunity to build community. Getting your foot in the door of the DC policy space can sometimes seem a little bit impossible until someone takes a chance on you, and I feel that this is what this fellowship has done for me. It has been really cool to dive headfirst into the tight-knit international peacebuilding sector and create a community among the broader foreign policy space.
What has been the most challenging aspect of the program? One of the most challenging aspects of the program can be perceived as both a blessing and a curse. While I consider myself incredibly fortunate to be entrusted to carry out independent projects and create my own pathway within this fellowship, being a Scoville fellow comes with a very high level of agency which has been pretty difficult to manage at times. Because the cohort of Scoville fellows is always made up of young professionals from such varied backgrounds of education level and work practice, the organizations that we join have pretty high expectations and to some extent, a perception of qualification among fellows. I often felt a bit in over my head when I, a very recent college grad who spent the last 1.5 years of school and internships online, was entrusted to build out and execute some large-scale projects including research and partner development. It has been a challenge not only to adjust to the learning curve but also to overcome my own doubts about my ability and readiness to engage in this work.
How has Covid-19 impacted your experience? COVID-19 has impacted some key aspects of DC's politics and policy scene which has thus shaped a couple of things about my fellowship. Working in the policy and advocacy sphere requires constant attendance at congressional hearings, meetings with elected officials, committee meetings, working group meetings, and advocacy events. Prior to the pandemic, all of these things happened in person, but since March 2020, the vast majority of these types of meetings and events have shifted online and remained virtual even as other life aspects have sort of returned to normal. Even though my day-to-day work has been able to mostly happen in the office (except for a few WFH months during surges), it is difficult not to feel that I am missing out a little bit on the exciting hustle and bustle of working in the nation's capital. Additionally, as I currently work with a global peacebuilding organization with partners across 18 countries, usually international travel and face-to-face interaction with a diverse range of allies and partners is a natural part of this work. For the most part, these aspects of my organization's work have been paused, but it has been refreshing to see this begin to resume in recent weeks. Just like what everyone else is experiencing, the impact of COVID-19 has been a bit of a bummer, but a great lesson in learning how to be adaptable, go to extra lengths to build relationships, and be creative about new ways of working.
What advice do you have for future applicants? When I was applying for the Scoville fellowship, I really underestimated my chances of being considered because so much of my previous experience (from the classes and research I took to the internships I held to all else) was centered on specific passions of mine that didn't seem directly relevant to international affairs and global security. Despite my doubts about being qualified, I took a chance and applied and was lucky enough to be selected. My advice to future applicants is to never tell yourself no. Apply for what resonates with you, even if you might not feel like you have what they are looking for. Think about why you are drawn to something and craft a narrative that shows how your seemingly unrelated past experiences shaped your evolution and passions. If you are able to create an elevator pitch that shows what you care about and how that has driven you, you'll stand out for anything you apply to. Also, during college make sure to seek out advocates who want to support you and lean on that network for help with applications, interview preparation, references, and general guidance in getting to where you want to be. In every industry and corner, there are really kind people who want to pour into the next generation of young professionals. Don't be afraid to reach out and build connections with people who inspire you.
Additional Information: To learn more about Elsie's experience with Peace Direct through the Scoville Fellowship, visit: https://scoville.org/2022/02/28/from-direct-service-to-systems-change/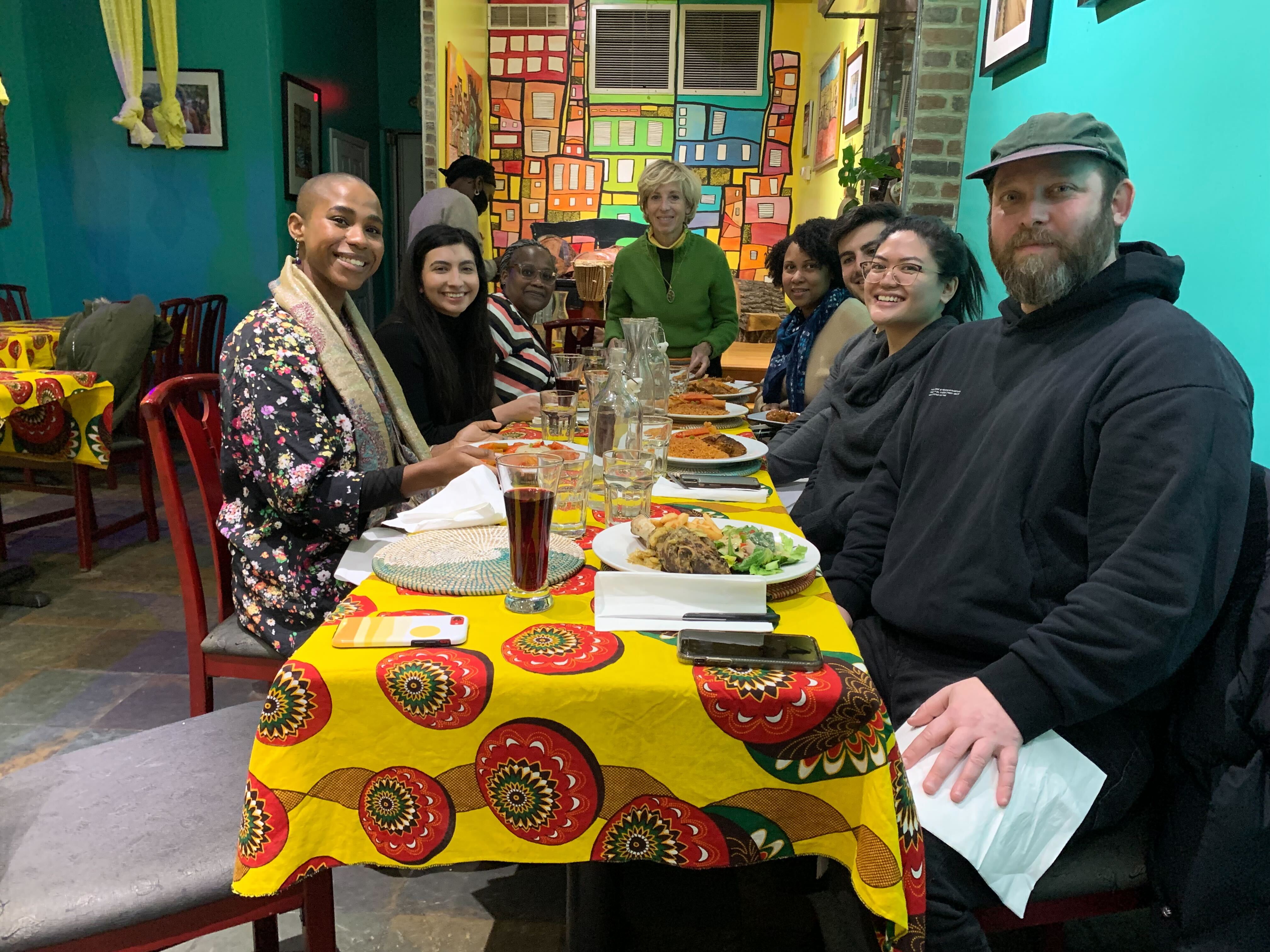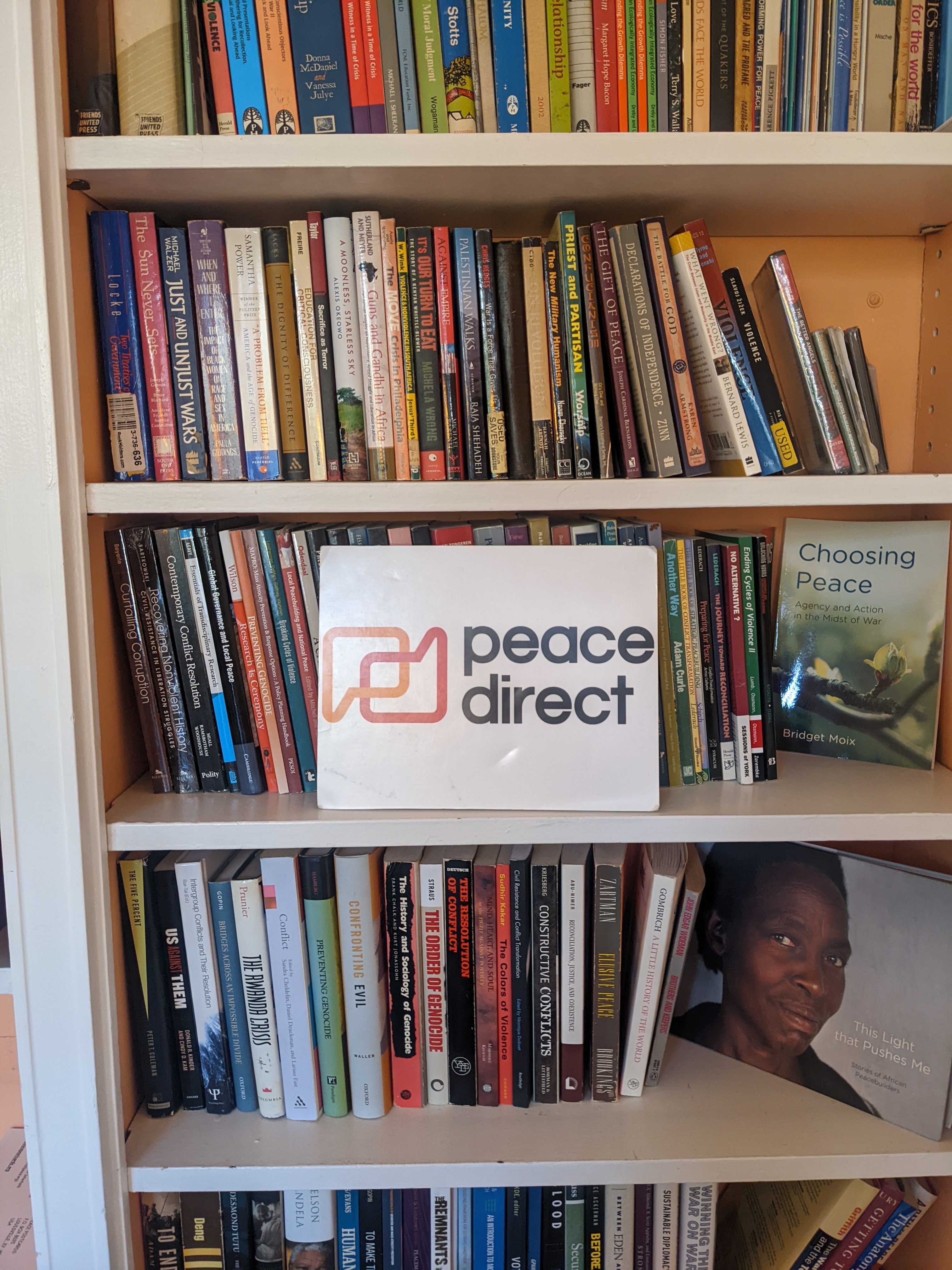 Captions from top to bottom: US staff enjoying dinner at a Senegalese restaurant after a team museum outing. Picture of the bookshelf inside Peace Direct's DC office.
----------------
The Herbert Scoville Jr. Peace Fellowship Program invites recent college and graduate school alumni to apply for full-time, six-to-nine month fellowships in Washington, DC. To learn more about the program, visit: https://scoville.org/overview/ or contact ONIF.